Festival Colline
3291 Rue la Fontaine, Lac-Mégantic, QC, Canada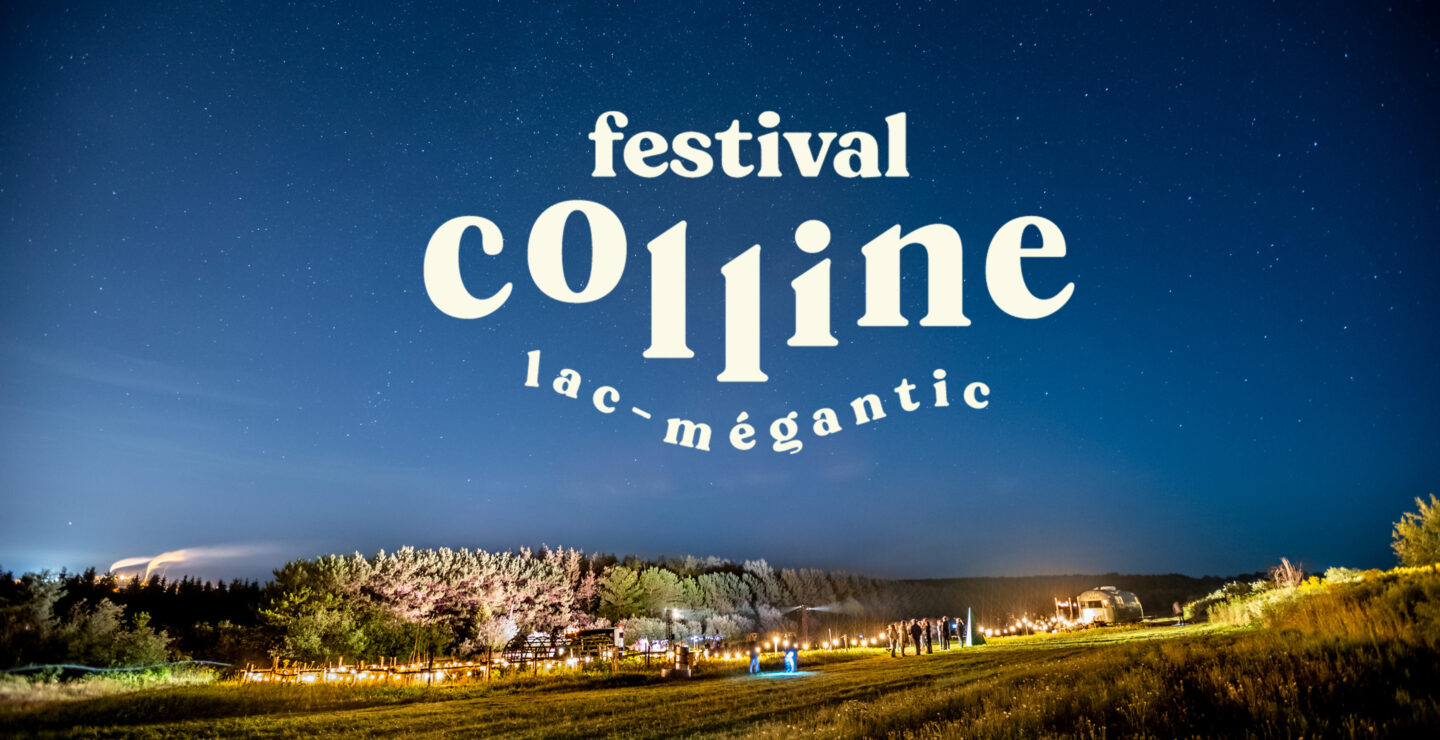 The Colline festival returns from August 10 to 13, 2023, with the participation of Daniel Bélanger, Lisa LeBlanc, and Jean-Michel Blais. Colline has already taken place in August 2021 and August 2022, during the Perseids, and this year the festival will once again take place during the peak of this majestic shooting star shower.
This festival features outdoor art events on the Colline de la Croix Lumineuse in Lac Mégantic, a unique natural setting. The mission of Colline is to create community gatherings on a human scale, focused on the performing arts, following the Cittaslow philosophy, a certification that the city of Lac-Mégantic proudly displays.
Organized by the same team behind the success of the Chapelle du rang 1, the Colline festival invites festival goers to attend original performances, concerts with artists making their first appearance in Lac-Mégantic, and free events such as shows and a yoga session accompanied by classical music.
The vision of the festival is to become the cultural organization with the greatest influence in Quebec because of the quality of its offer and its unique culture and nature approach.
See the activities
Festival Colline
3291 Rue la Fontaine, Lac-Mégantic, QC, Canada
La Chapelle du rang 1
3394 Rue Agnès, Lac-Mégantic, QC, Canada
Montagne de la croix
2883 Rue Lafontaine, Lac-Mégantic, QC G6B 2K5, Canada
Manoir d'Orsennens
3502 Rue Agnès, Lac-Mégantic, QC, Canada
Parc des Vétérans – Marina – Parc J.-Émile Cloutier
Lac-Mégantic, Québec G6B 2G8, Canada
Walking Tours: Le Marcheur d'étoiles & La Marche du Vent
5527 Rue Frontenac, Lac-Mégantic, QC, Canada
Musi-Café
5601 Rue Papineau, Lac-Mégantic, QC, Canada
Visa-Beauté Santé Spa
5450 Boulevard des Vétérans, Lac-Mégantic, QC, Canada
Gare patrimoniale de Lac-Mégantic & Marché Public
5490, rue de la Gare, Lac-Mégantic, Québec, G6B 2H1
Parc de la Rivière Chaudière
5400 Rue Papineau, Lac-Mégantic, QC, Canada
Microtel Wyndham Inn & Suites Lac-Mégantic
5180, rue Frontenac, Lac-Mégantic, Québec G6B 1H3
Église Ste-Agnès
4872 Rue Laval, Lac-Mégantic, QC, Canada
Auberge et Chalets sur le Lac & Capitaine Provost
2000 Chemin du Motel sur le Lac, Frontenac, QC, Canada
Casse-croûte chez Ti-Bi
4507 Rue Laval, Lac-Mégantic, QC, Canada
Parc et plage de l'OTJ
3293 Rue Victoria, Lac-Mégantic, Québec G6B 1R8, Canada
Marché Lavallée
4298 Rue Laval, Lac-Mégantic, QC, Canada
Boucherie BL
3854 Rue Laval, Lac-Mégantic, QC, Canada
Lac-Mégantic panoramic stop
Rue Laval, Lac-Mégantic, QC, Canada
Le Renato
3423 Rue Laval, Lac-Mégantic, QC, Canada
Motel le Quiet
3284 Rue Laval, Lac-Mégantic, QC, Canada
Kaline Resto Pub
3280 Rue Laval, Lac-Mégantic, QC, Canada
Fromagerie la Chaudière
3226 Rue Laval, Lac-Mégantic, QC, Canada
Auberge Majella
2781 Rue de la Baie des Sables, Lac-Mégantic, QC, Canada
Piste cyclable Baie-des-Sables – Rivière Chaudière
2370 Chemin du Lac, Lac-Mégantic, QC, Canada
Station touristique Baie-des-Sables & Arbre-en-Arbre
2370 Chemin du Lac, Lac-Mégantic, QC, Canada
Louise-Gosford ZEC (Louise Area)
4e Rang, Frontenac, QC, Canada
Camping Aventure Mégantic
1255 Québec 161, Frontenac, QC, Canada
Deça Deci - Ferme Agrotouristique
298 Route 263, Marston, QC, Canada
Ferme des Petits Torrieux
8622 Route 204, Frontenac, QC, Canada
Marston stop – Centre de Loisirs
130, route 263 sud, Marston, QC, Canada
Un Lac au Sommet Trail
130 Route 263, Marston, QC, Canada
Tour d'observation des Hautes Appalaches stop
1052 QC-161, Frontenac, QC G6B 2S1, Canada
Club de Golf du lac Mégantic
1039 Québec 161, Frontenac, QC, Canada
Ferme maraîchère Roy
1919 Québec 161, Nantes, QC, Canada
Hébergement aux Cinq Sens
250 Rang des Grenier, Piopolis, QC, Canada
Camping Municipal de Piopolis
109 Chemin de la Plage, Piopolis, QC, Canada
Magasin Général de Piopolis
454 Rue Principale, Piopolis, QC, Canada
Marina de Piopolis
516 Rue Principale, Piopolis, QC G0Y 1H0, Canada
Clocher Trails
472 Rue Principale, Piopolis, QC, Canada
Des Zouaves stop – Piopolis
472 Rue Principale, Piopolis, QC, Canada
Solstice Plein Air
515 Rue Principale, Piopolis, QC, Canada
Auberge Au Soleil Levant – Resto Pub
499 Rue Principale, Piopolis, QC, Canada
Gîte Coté-Lac B&B
528 Chemin de la Rivière-Bergeron, Piopolis, QC, Canada
Cœur villageois de Piopolis
403, rue Principale, Piopolis, Québec, G0Y 1H0
Plage du Lac aux Araignées
4999 4e Rang, Frontenac, QC, Canada
Scotch Cap
784 Chemin de la Rivière-Bergeron, Piopolis, QC G0Y 1H0, Canada
« Les mots d'enfants » path
15 Rue de l'OTJ, Audet, QC, Canada
Joseph-Alfred Fontaine stop – Woburn
Chemin de la Rivière-Bergeron & Québec 161, Saint-Augustin-de-Woburn, QC, Canada
Mini Compostelle Mégantic
2991 Chemin Saint Léon, Val-Racine, QC, Canada
Village stop – Val Racine
2991 Chemin St Léon, Val-Racine, QC, Canada
Lac-Drolet stop - Parc du Lac
1016 Chemin Principal, Lac-Drolet, QC, Canada
Domaine des Montagnais
203 Chemin de la Fôret Enchantée, Val-Racine, QC, Canada
Summit Drive contest rules