Station touristique Baie-des-Sables & Arbre-en-Arbre
2370 Chemin du Lac, Lac-Mégantic, QC, Canada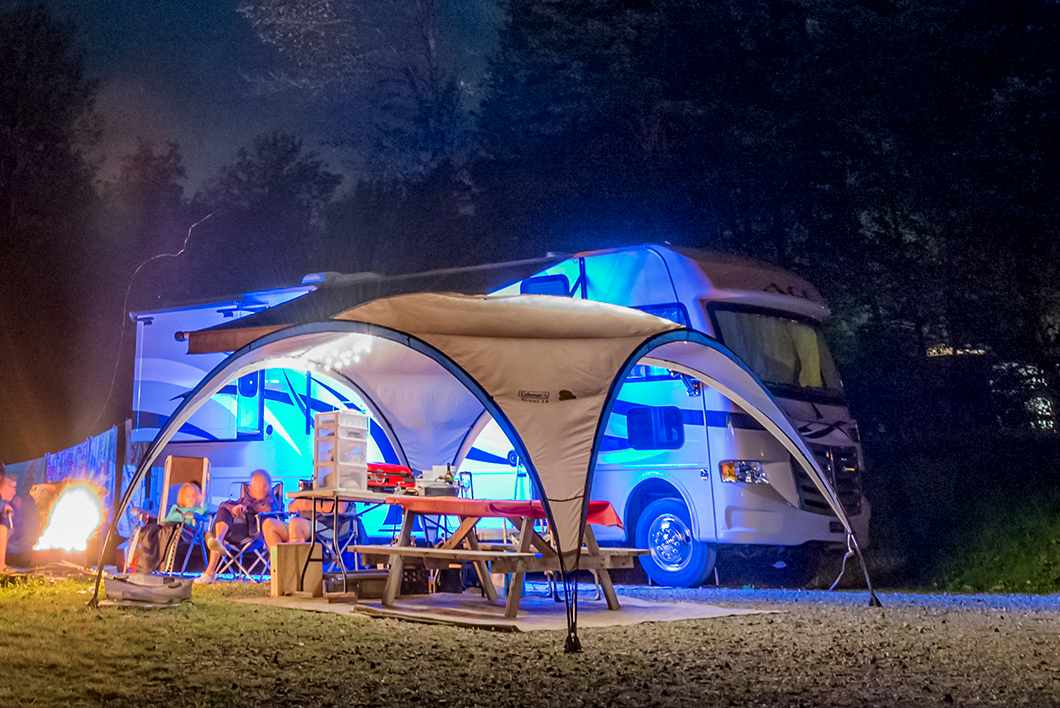 The tourism station offers accommodation with a 350-spot campground, cabins, efficiency units, rooms and ready-to-camp areas.
You'll find a gigantic beach with access to Lac Mégantic, as well as an aquatic centre and sailing school, all enlivened with a range of activities.
Up for a hike? Stretch your legs along 7 paths totalling over 18 km!
Are you an adventurer? Have fun at the main attraction with a series of hebertism trails in the trees that are guaranteed to thrill.
D'Arbre en Arbre Lac-Mégantic has a total of 67 games, including one demo trail, one trail for kids and three trails for youth/adults.
And let's not forget the joys of winter! With downhill skiing, snowboarding, snow tubing, cross-country skiing and snowshoeing, Baie-des-Sables is sure to please both young and old.
Ready to add this stop to your adventure? Whatever the season, Station touristique Baie-des-Sables will exceed your expectations!
Establishment number: 199253
Rating: 4 stars
See the activities
Piste cyclable Baie-des-Sables – Rivière Chaudière
2370 Chemin du Lac, Lac-Mégantic, QC, Canada
Station touristique Baie-des-Sables & Arbre-en-Arbre
2370 Chemin du Lac, Lac-Mégantic, QC, Canada
Auberge Majella
2781 Rue de la Baie des Sables, Lac-Mégantic, QC, Canada
Fromagerie la Chaudière
3226 Rue Laval, Lac-Mégantic, QC, Canada
Kaline Resto Pub
3280 Rue Laval, Lac-Mégantic, QC, Canada
Motel le Quiet
3284 Rue Laval, Lac-Mégantic, QC, Canada
Le Renato
3423 Rue Laval, Lac-Mégantic, QC, Canada
Lac-Mégantic panoramic stop
Rue Laval, Lac-Mégantic, QC, Canada
Boucherie BL
3854 Rue Laval, Lac-Mégantic, QC, Canada
Deça Deci - Ferme Agrotouristique
298 Route 263, Marston, QC, Canada
Marché Lavallée
4298 Rue Laval, Lac-Mégantic, QC, Canada
Parc et plage de l'OTJ
3293 Rue Victoria, Lac-Mégantic, Québec G6B 1R8, Canada
Casse-croûte chez Ti-Bi
4507 Rue Laval, Lac-Mégantic, QC, Canada
Ferme maraîchère Roy
1919 Québec 161, Nantes, QC, Canada
Église Ste-Agnès
4872 Rue Laval, Lac-Mégantic, QC, Canada
Microtel Wyndham Inn & Suites Lac-Mégantic
5180, rue Frontenac, Lac-Mégantic, Québec G6B 1H3
Visa-Beauté Santé Spa
5450 Boulevard des Vétérans, Lac-Mégantic, QC, Canada
Auberge et Chalets sur le Lac & Capitaine Provost
2000 Chemin du Motel sur le Lac, Frontenac, QC, Canada
Parc des Vétérans – Marina – Parc J.-Émile Cloutier
Lac-Mégantic, Québec G6B 2G8, Canada
Walking Tours: Le Marcheur d'étoiles & La Marche du Vent
5527 Rue Frontenac, Lac-Mégantic, QC, Canada
Gare patrimoniale de Lac-Mégantic & Marché Public
5490, rue de la Gare, Lac-Mégantic, Québec, G6B 2H1
Parc de la Rivière Chaudière
5400 Rue Papineau, Lac-Mégantic, QC, Canada
Musi-Café
5601 Rue Papineau, Lac-Mégantic, QC, Canada
La Chapelle du rang 1
3394 Rue Agnès, Lac-Mégantic, QC, Canada
Manoir d'Orsennens
3502 Rue Agnès, Lac-Mégantic, QC, Canada
Festival Colline
3291 Rue la Fontaine, Lac-Mégantic, QC, Canada
Marston stop – Centre de Loisirs
130, route 263 sud, Marston, QC, Canada
Un Lac au Sommet Trail
130 Route 263, Marston, QC, Canada
Montagne de la croix
2883 Rue Lafontaine, Lac-Mégantic, QC G6B 2K5, Canada
Camping Aventure Mégantic
1255 Québec 161, Frontenac, QC, Canada
Ferme des Petits Torrieux
8622 Route 204, Frontenac, QC, Canada
Louise-Gosford ZEC (Louise Area)
4e Rang, Frontenac, QC, Canada
Hébergement aux Cinq Sens
250 Rang des Grenier, Piopolis, QC, Canada
Tour d'observation des Hautes Appalaches stop
1052 QC-161, Frontenac, QC G6B 2S1, Canada
Club de Golf du lac Mégantic
1039 Québec 161, Frontenac, QC, Canada
Camping Municipal de Piopolis
109 Chemin de la Plage, Piopolis, QC, Canada
Magasin Général de Piopolis
454 Rue Principale, Piopolis, QC, Canada
Cœur villageois de Piopolis
403, rue Principale, Piopolis, Québec, G0Y 1H0
Clocher Trails
472 Rue Principale, Piopolis, QC, Canada
Des Zouaves stop – Piopolis
472 Rue Principale, Piopolis, QC, Canada
Marina de Piopolis
516 Rue Principale, Piopolis, QC G0Y 1H0, Canada
Auberge Au Soleil Levant – Resto Pub
499 Rue Principale, Piopolis, QC, Canada
Solstice Plein Air
515 Rue Principale, Piopolis, QC, Canada
Gîte Coté-Lac B&B
528 Chemin de la Rivière-Bergeron, Piopolis, QC, Canada
Mini Compostelle Mégantic
2991 Chemin Saint Léon, Val-Racine, QC, Canada
Village stop – Val Racine
2991 Chemin St Léon, Val-Racine, QC, Canada
Scotch Cap
784 Chemin de la Rivière-Bergeron, Piopolis, QC G0Y 1H0, Canada
Plage du Lac aux Araignées
4999 4e Rang, Frontenac, QC, Canada
Lac-Drolet stop - Parc du Lac
1016 Chemin Principal, Lac-Drolet, QC, Canada
« Les mots d'enfants » path
15 Rue de l'OTJ, Audet, QC, Canada
Domaine des Montagnais
203 Chemin de la Fôret Enchantée, Val-Racine, QC, Canada
La Maison du Granit
301 Route du Morne, Lac-Drolet, QC, Canada
Gîte La Petite École
95 Québec 161, Stornoway, QC G0Y 1N0, Canada
Le Morne de Saint-Sébastien
301 Route du Morne, Lac-Drolet, Québec G0Y 1C0, Canada
Sentiers du Morne
301, route du Morne, Lac-Drolet (Québec) G0Y 1C0
Sentiers du Morne
301, route du Morne, Lac-Drolet (Québec) G0Y 1C0
Camping et Chalet dans les Arbres Mont-Mégantic
4149 Chemin de la Montagne, Val-Racine, QC, Canada