Walking Tours: Le Marcheur d'étoiles & La Marche du Vent
5527 Rue Frontenac, Lac-Mégantic, QC, Canada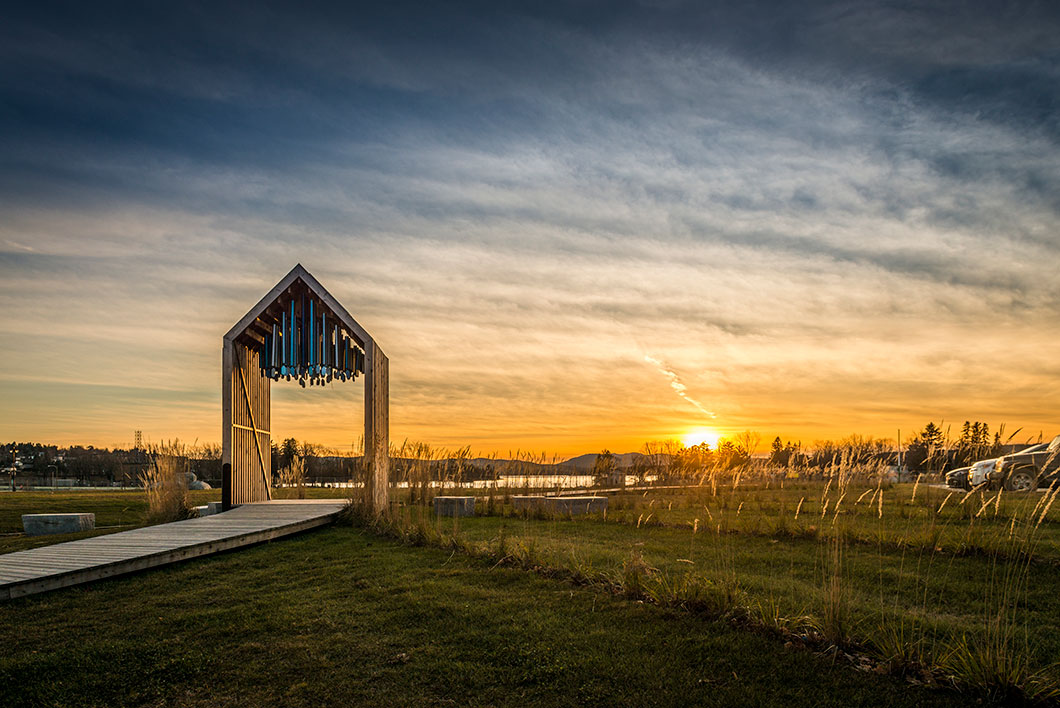 Header photo credit: Claude Grenier
Here are two tourist routes that you can take to discover the town of Lac-Mégantic on foot. Take a break before continuing your adventure on Summit Drive!
Le Marcheur d'étoiles
Dive into the heart of the city on a historical and cultural route. Explore the exhibit detailing the events of July 6, 2013 at the heritage railway station and Église Sainte-Agnès. Also discover an outdoor photo exhibit, 48 monumental sculptures and much more. In addition, a scavenger hunt, available at the heritage railway station and the Bureau d'accueil touristique, will provide lots of fun for the whole family along the way.
This route is also available on BaladoDiscovery, a free mobile app that guides phone and tablet users through their visit using GPS. You can download the contents of the route.
Touch the compass and go to the Marcheur d'étoiles circuit | Lac-Mégantic tourist route
Discover videos, audio recordings, archival photos and more.
Le Marcheur d'étoiles presents 15 points of interest that will make your walk around the heart of Lac-Mégantic a memorable experience!
La Marche du Vent
Initiated by Lac-Mégantic's Arts, Culture and Heritage Commission, this route is inspired by local and regional artists.
La Marche du vent is an outdoor walk with public installations designed by the internationally renowned creative studio Daily tous les jours, from Montreal.
The path begins at the intersection of Rue Dollard and Rue du Québec-Central, across from Église Sainte-Agnes, and ends at the Centre sportif Mégantic. It includes an observation platform overlooking the ravaged downtown area, the starting point of a boardwalk over 250 metres long that leads to the Maison du vent at the intersection of Rue du Québec-Central and Rue Papineau. There, walkers will have a view of Promenade Papineau, the historic downtown, and the lake and mountains in the distance.
A historical exhibit called Maisons des histoires (Houses of Stories), comprised of five stations recounting the history of Lac-Mégantic, lines Rue Papineau.
On Promenade Papineau, a colourful picnic area awaits you. An area where you can rest and observe the starry sky comprised of six giant hammocks, each one nearly ten metres long, can be reached near the Centre sportif Mégantic. (Courtesy Destination Lac-Mégantic)
See the activities
Walking Tours: Le Marcheur d'étoiles & La Marche du Vent
5527 Rue Frontenac, Lac-Mégantic, QC, Canada
Parc des Vétérans – Marina – Parc J.-Émile Cloutier
Lac-Mégantic, Québec G6B 2G8, Canada
Visa-Beauté Santé Spa
5450 Boulevard des Vétérans, Lac-Mégantic, QC, Canada
Gare patrimoniale de Lac-Mégantic & Marché Public
5490, rue de la Gare, Lac-Mégantic, Québec, G6B 2H1
Musi-Café
5601 Rue Papineau, Lac-Mégantic, QC, Canada
Microtel Wyndham Inn & Suites Lac-Mégantic
5180, rue Frontenac, Lac-Mégantic, Québec G6B 1H3
Manoir d'Orsennens
3502 Rue Agnès, Lac-Mégantic, QC, Canada
Parc de la Rivière Chaudière
5400 Rue Papineau, Lac-Mégantic, QC, Canada
La Chapelle du rang 1
3394 Rue Agnès, Lac-Mégantic, QC, Canada
Église Ste-Agnès
4872 Rue Laval, Lac-Mégantic, QC, Canada
Festival Colline
3291 Rue la Fontaine, Lac-Mégantic, QC, Canada
Casse-croûte chez Ti-Bi
4507 Rue Laval, Lac-Mégantic, QC, Canada
Parc et plage de l'OTJ
3293 Rue Victoria, Lac-Mégantic, Québec G6B 1R8, Canada
Montagne de la croix
2883 Rue Lafontaine, Lac-Mégantic, QC G6B 2K5, Canada
Marché Lavallée
4298 Rue Laval, Lac-Mégantic, QC, Canada
Auberge et Chalets sur le Lac & Capitaine Provost
2000 Chemin du Motel sur le Lac, Frontenac, QC, Canada
Boucherie BL
3854 Rue Laval, Lac-Mégantic, QC, Canada
Lac-Mégantic panoramic stop
Rue Laval, Lac-Mégantic, QC, Canada
Le Renato
3423 Rue Laval, Lac-Mégantic, QC, Canada
Motel le Quiet
3284 Rue Laval, Lac-Mégantic, QC, Canada
Kaline Resto Pub
3280 Rue Laval, Lac-Mégantic, QC, Canada
Fromagerie la Chaudière
3226 Rue Laval, Lac-Mégantic, QC, Canada
Auberge Majella
2781 Rue de la Baie des Sables, Lac-Mégantic, QC, Canada
Piste cyclable Baie-des-Sables – Rivière Chaudière
2370 Chemin du Lac, Lac-Mégantic, QC, Canada
Station touristique Baie-des-Sables & Arbre-en-Arbre
2370 Chemin du Lac, Lac-Mégantic, QC, Canada
Deça Deci - Ferme Agrotouristique
298 Route 263, Marston, QC, Canada
Louise-Gosford ZEC (Louise Area)
4e Rang, Frontenac, QC, Canada
Marston stop – Centre de Loisirs
130, route 263 sud, Marston, QC, Canada
Un Lac au Sommet Trail
130 Route 263, Marston, QC, Canada
Ferme des Petits Torrieux
8622 Route 204, Frontenac, QC, Canada
Camping Aventure Mégantic
1255 Québec 161, Frontenac, QC, Canada
Ferme maraîchère Roy
1919 Québec 161, Nantes, QC, Canada
Tour d'observation des Hautes Appalaches stop
1052 QC-161, Frontenac, QC G6B 2S1, Canada
Club de Golf du lac Mégantic
1039 Québec 161, Frontenac, QC, Canada
Hébergement aux Cinq Sens
250 Rang des Grenier, Piopolis, QC, Canada
Camping Municipal de Piopolis
109 Chemin de la Plage, Piopolis, QC, Canada
Magasin Général de Piopolis
454 Rue Principale, Piopolis, QC, Canada
Marina de Piopolis
516 Rue Principale, Piopolis, QC G0Y 1H0, Canada
Clocher Trails
472 Rue Principale, Piopolis, QC, Canada
Des Zouaves stop – Piopolis
472 Rue Principale, Piopolis, QC, Canada
Solstice Plein Air
515 Rue Principale, Piopolis, QC, Canada
Auberge Au Soleil Levant – Resto Pub
499 Rue Principale, Piopolis, QC, Canada
Cœur villageois de Piopolis
403, rue Principale, Piopolis, Québec, G0Y 1H0
Gîte Coté-Lac B&B
528 Chemin de la Rivière-Bergeron, Piopolis, QC, Canada
Plage du Lac aux Araignées
4999 4e Rang, Frontenac, QC, Canada
Scotch Cap
784 Chemin de la Rivière-Bergeron, Piopolis, QC G0Y 1H0, Canada
« Les mots d'enfants » path
15 Rue de l'OTJ, Audet, QC, Canada
Mini Compostelle Mégantic
2991 Chemin Saint Léon, Val-Racine, QC, Canada
Village stop – Val Racine
2991 Chemin St Léon, Val-Racine, QC, Canada
Lac-Drolet stop - Parc du Lac
1016 Chemin Principal, Lac-Drolet, QC, Canada
Joseph-Alfred Fontaine stop – Woburn
Chemin de la Rivière-Bergeron & Québec 161, Saint-Augustin-de-Woburn, QC, Canada
Domaine des Montagnais
203 Chemin de la Fôret Enchantée, Val-Racine, QC, Canada
La Maison du Granit
301 Route du Morne, Lac-Drolet, QC, Canada
Le Morne de Saint-Sébastien
301 Route du Morne, Lac-Drolet, Québec G0Y 1C0, Canada
Sentiers du Morne
301, route du Morne, Lac-Drolet (Québec) G0Y 1C0
Sentiers du Morne
301, route du Morne, Lac-Drolet (Québec) G0Y 1C0