Parc régional du Mont-Ham
103 Route 257 Ouest, Ham-Sud, Qc J0B 3J0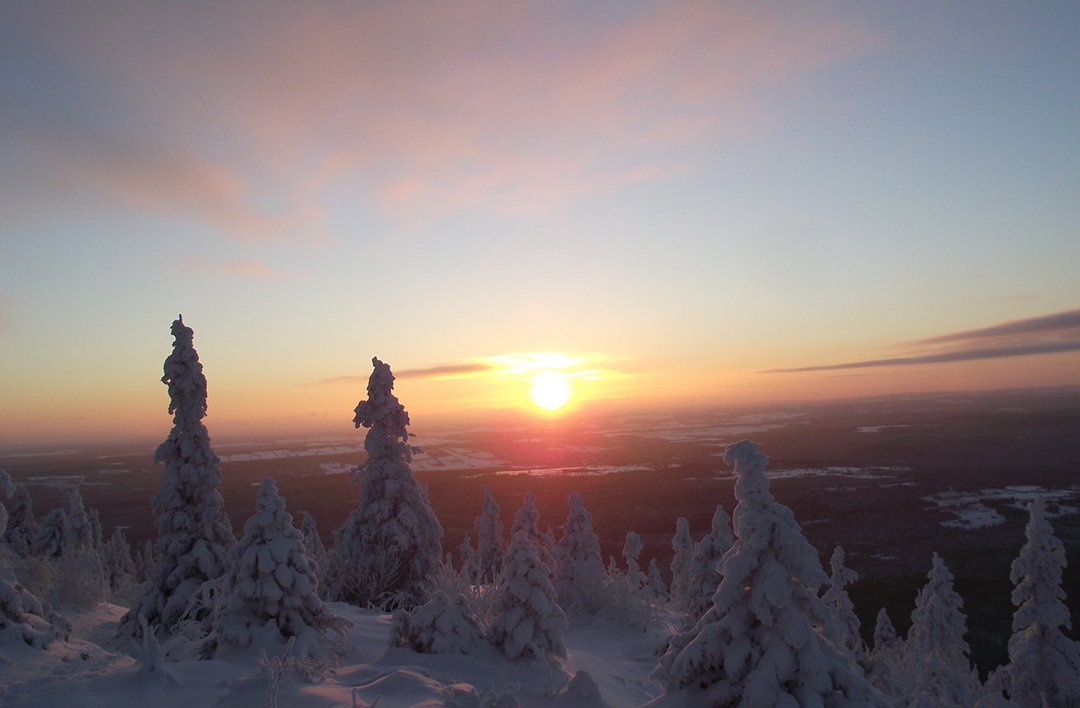 Outdoor enthusiasts will be delighted by the 18 km of walking trails, forest accommodation (shelters, prospector tents and rustic camping), the breathtaking 360-degree view on the mountaintop and the rich history of the Abenaki people.
Have you ever heard of disc golf? What is it, a mix of golf and Frisbee? That's right! Come practice your Frisbee-throwing talents at one of the only forest courses in Quebec (9 baskets).
In the winter, come for some cross-country skiing along 6 km of trails or take the mountain paths to reach the top on snowshoes or boots equipped with ice cleats! Equipment (snowshoes, ski poles and ice cleats) can be rented at the reception desk.
Come and experience Parc régional du Mont-Ham 365 days a year!
At the foot of the mountain, the chalet provides a number of services: bar, food counter, washrooms, showers, picnic area and children's play area, as well as a hebertism trail.
Establishment number: 208176
Rating: 2 stars
Back to activities
Parc régional du Mont-Ham
103, Route 257 Ouest, Ham-Sud (Québec) J0B 3J0
Parc régional du Mont-Ham
103 Route 257 Ouest, Ham-Sud, Qc J0B 3J0
Au pied du Mont-Ham
1, rue Lise, Ham-sud, Québec, J0B 2J0
Ferme paysanne La Bardâne / Donkey farm, herbalist and soap maker
271, rang 1, Saint-Joseph-de-Ham-Sud, QC J0B 3J0, Canada
Ham-Sud stop - Parc des Aînés
4 Chemin Gosford N, Ham-Sud, QC J0B 3J0, Canada
La Grande Dame
12 Chemin Gosford Sud, Weedon, QC, Canada
Auberge La Mara
127 Chemin Gosford Sud, Ham-Sud, QC, Canada
Camping du Mont Ham-Sud
500 Chemin des Pionniers, Ham-Sud, QC, Canada
Centre Odaïna
1631 Rue Giguère, Saint-Adrien, QC, Canada
Auberge Incroyable
1608 Rue Principale, Saint-Adrien, QC, Canada
Desjardins stop - St-Adrien
1608 Rue Principale, Saint-Adrien, QC J0A 1C0, Canada
Comptoir St-Vrac
1610 Rue Principale, Saint-Adrien, QC, Canada
Marché Au Coeur - Saint-Adrien
1609 Rue Principale, Saint-Adrien, QC, Canada
La Meunerie
5638, chemin Saint-Rémi Saint-Adrien J0A 1C0
Le Cerf Nature - Érablière du Cerf Rouge
2000 Québec 216, Saint-Adrien, QC, Canada
Sur l'Arc En Ciel B&B
2020 Chemin de l'Arc en Ciel, Saint-Adrien, QC, Canada
Camping Beau-Soleil
1225, route 112, Weedon, Québec, J0B 3J0
Parc du Vieux Moulin & Fresque de Weedon
164 Rue Saint Janvier, Weedon, QC, Canada
Restaurant bar Le Moulin
481 2e Av, Weedon, QC, Canada
Restaurant Da Rita
353 Rue Saint Janvier, Weedon, QC, Canada
Centre culturel de Weedon and Galerie d'Art Le Harfang
280, 9e avenue, Weedon, Québec, J0B 3J0
Fromagerie P'tit Plaisir
503 Rue de la Carrière, Weedon, Québec J0B 3J0, Canada
Du Barrage stop – Weedon
423 QC-161, Weedon, QC J0B 3J0, Canada
Station touristique Baie-des-Sables & Arbre-en-Arbre