Parc du Vieux Moulin & Fresque de Weedon
164 Rue Saint Janvier, Weedon, QC, Canada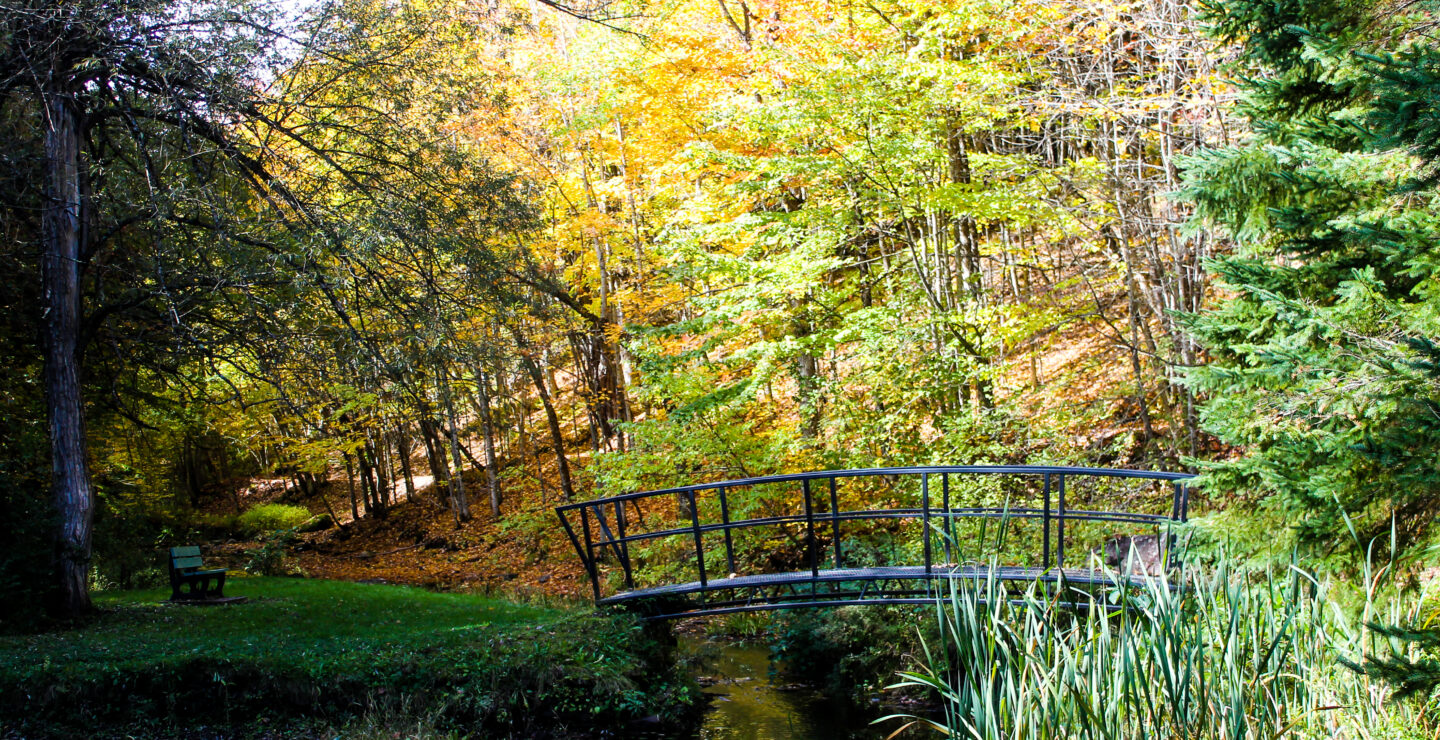 A walking trail on Summit Drive, the Parc du Vieux Moulin is a must-see! You will discover the foundations of the first mills in the village while enjoying the beautiful trails along Weedon Stream. You can also admire magnificent waterfalls. It's the perfect place to enjoy a nature picnic with the bubbling brook in the background. Want to stick around a little longer? Go to the Fresque de Weedon nearby (take Rue St-Janvier [route 257] to 9th Avenue). It depicts the history and identity of Weedon, St-Gérard and Fontainebleau. Let the walls talk to you about history through nine beautiful scenes.
This work of art was created by citizens of the municipality of Weedon who, wanting to beautify a section of the village, chose to paint an immense mural on different buildings.
The Comité de la Fresque de Weedon was formed in 2004 and residents were encouraged to volunteer, along with the "Peintres en Liberté" group, to complete the project. Hundreds of citizens participated in its creation.
The scenes represent regional landscapes, such as the iron bridge over Rivière St-François, Lac Louise, Rivière au Saumon, the St-Gérard dam, a view of the village of Fontainebleau (Weedon area), the Parc du Vieux Moulin, the Gare de Weedon, a Quebec Central train scene, and a few others.
Back to activities
Parc du Vieux Moulin & Fresque de Weedon
164 Rue Saint Janvier, Weedon, QC, Canada
Restaurant bar Le Moulin
481 2e Av, Weedon, QC, Canada
Restaurant Da Rita
353 Rue Saint Janvier, Weedon, QC, Canada
Centre culturel de Weedon and Galerie d'Art Le Harfang
280, 9e avenue, Weedon, Québec, J0B 3J0
Camping Beau-Soleil
1225, route 112, Weedon, Québec, J0B 3J0
Ferme Renaissance
1120 2e Rang Sud, Weedon, QC J0B 3J0, Canada
Fromagerie P'tit Plaisir
503 Rue de la Carrière, Weedon, Québec J0B 3J0, Canada
Du Barrage stop – Weedon
423 QC-161, Weedon, QC J0B 3J0, Canada
Auberge La Mara
127 Chemin Gosford Sud, Ham-Sud, QC, Canada
La Grande Dame
12 Chemin Gosford Sud, Weedon, QC, Canada
Ham-Sud stop - Parc des Aînés
4 Chemin Gosford N, Ham-Sud, QC J0B 3J0, Canada
Ferme paysanne La Bardâne / Donkey farm, herbalist and soap maker
271, rang 1, Saint-Joseph-de-Ham-Sud, QC J0B 3J0, Canada
Parc du Lac Aylmer and Marais Maskinongé
505 Chemin du Domaine Aylmer, Stratford, QC, Canada
Camping du Mont Ham-Sud
500 Chemin des Pionniers, Ham-Sud, QC, Canada
Parc régional du Mont-Ham
103 Route 257 Ouest, Ham-Sud, Qc J0B 3J0
Parc régional du Mont-Ham
103, Route 257 Ouest, Ham-Sud (Québec) J0B 3J0
Le Nirvana de la Faune
854 Chemin de Stratford, Stratford, QC, Canada
Ferme Couture
983 Chemin de Stratford, Stratford, QC, Canada
Au pied du Mont-Ham
1, rue Lise, Ham-sud, Québec, J0B 2J0
Restaurant Le Myriade
189 Avenue Centrale Nord, Stratford, QC, Canada
Les Jardins des tisÂNES
485 Avenue Centrale Sud, Stratford, QC, Canada
Ranch Winslow
920, route 161, stornoway, qc, G0Y 1N0
« Les mots d'enfants » path