Parc régional du Mont-Ham
103, Route 257 Ouest, Ham-Sud (Québec) J0B 3J0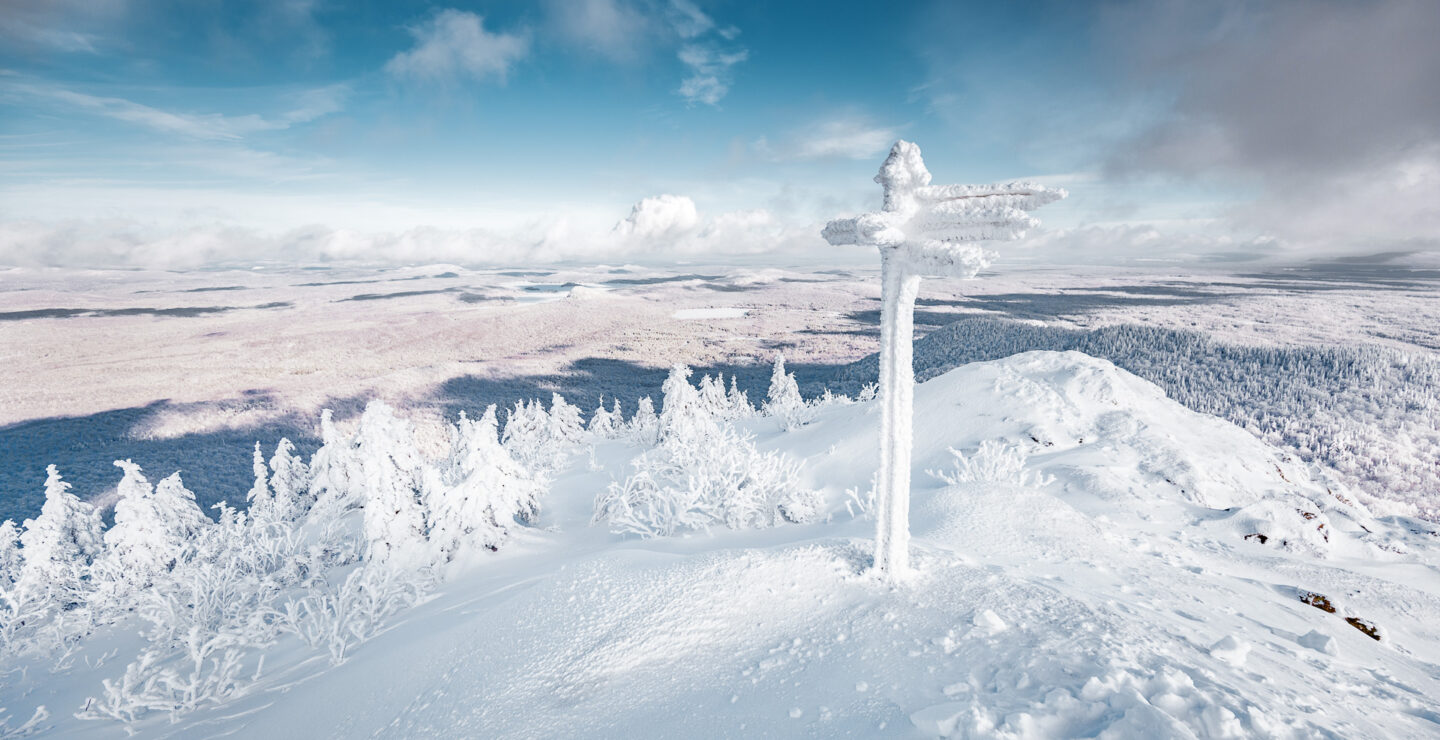 The Abénakise
Altitude: 713 m
Drop: 365 m
Length: 6.9 km (Intrépide + Panoramique)
Type: Appalachians, loop, two summits
Duration: 3h30
Level: Advanced
Known for its two-peak summit and with an altitude of 713 metres, Mont-Ham dominates the region and offers a breathtaking 360° view.
Adventurers young and old will love taking on the challenge of the Intrépide trail, where a roped section will help you climb the impressive summit.
Do you love taking selfies? Take one with the "Rencontre au Sommet" sign to prove your ascent! From the rocky summit, you'll have an unobstructed view of this magnificent region, which mixes forested and agricultural landscapes. You'll love it, guaranteed!
Are you up for more than just a hike? Why not sleep on the mountaintop? You can do that here! Enjoy an unforgettable mountaintop camping experience (by reservation), where the sunset and sunrise will enchant you.
Indigenous Immersion
Located on Abenaki ancestral lands, Ndakina, the Trail of Legends on Mont-Ham, is a real immersion in Indigenous culture. All along the Waban-Aki discovery trail, which is also accessible to those with reduced mobility, look for the masks hidden in the mountain that recall the legend of the Invisible People. Interpretive panels located at the foot and summit of the mountain explain the Abenaki culture and this ancestral territory. It's a trip back in time to remind us that the ground we tread on today has been home to innumerable peoples for millennia, and that it's our duty to take care of it.
A statue at the summit of the mountain called "Awdowinno," meaning "warrior" in the Abenaki language, bears witness to this. Who knows, perhaps you'll feel the warrior spirit awake in you after you reach the summit? Keep your eye open for tepees, which can become your lodgings for a few nights.
Open 7 days a week
See the summits
Parc régional du Mont-Ham
103, Route 257 Ouest, Ham-Sud (Québec) J0B 3J0
Parc régional du Mont-Ham
103 Route 257 Ouest, Ham-Sud, Qc J0B 3J0
Au pied du Mont-Ham
1, rue Lise, Ham-sud, Québec, J0B 2J0
Ferme paysanne La Bardâne / Donkey farm, herbalist and soap maker
271, rang 1, Saint-Joseph-de-Ham-Sud, QC J0B 3J0, Canada
Ham-Sud stop - Parc des Aînés
4 Chemin Gosford N, Ham-Sud, QC J0B 3J0, Canada
La Grande Dame
12 Chemin Gosford Sud, Weedon, QC, Canada
Auberge La Mara
127 Chemin Gosford Sud, Ham-Sud, QC, Canada
Camping du Mont Ham-Sud
500 Chemin des Pionniers, Ham-Sud, QC, Canada
Centre Odaïna
1631 Rue Giguère, Saint-Adrien, QC, Canada
Auberge Incroyable
1608 Rue Principale, Saint-Adrien, QC, Canada
Desjardins stop - St-Adrien
1608 Rue Principale, Saint-Adrien, QC J0A 1C0, Canada
Comptoir St-Vrac
1610 Rue Principale, Saint-Adrien, QC, Canada
Marché Au Coeur - Saint-Adrien
1609 Rue Principale, Saint-Adrien, QC, Canada
La Meunerie
5638, chemin Saint-Rémi Saint-Adrien J0A 1C0
Le Cerf Nature - Érablière du Cerf Rouge
2000 Québec 216, Saint-Adrien, QC, Canada
Sur l'Arc En Ciel B&B
2020 Chemin de l'Arc en Ciel, Saint-Adrien, QC, Canada
Camping Beau-Soleil
1225, route 112, Weedon, Québec, J0B 3J0
Parc du Vieux Moulin & Fresque de Weedon
164 Rue Saint Janvier, Weedon, QC, Canada
Restaurant bar Le Moulin
481 2e Av, Weedon, QC, Canada
Restaurant Da Rita
353 Rue Saint Janvier, Weedon, QC, Canada
Centre culturel de Weedon and Galerie d'Art Le Harfang
280, 9e avenue, Weedon, Québec, J0B 3J0
Fromagerie P'tit Plaisir
503 Rue de la Carrière, Weedon, Québec J0B 3J0, Canada
Du Barrage stop – Weedon
423 QC-161, Weedon, QC J0B 3J0, Canada