Heritage and Historical Route – Galerie d'art du presbytère de Lambton
211 Rue Principale, Lambton, QC, Canada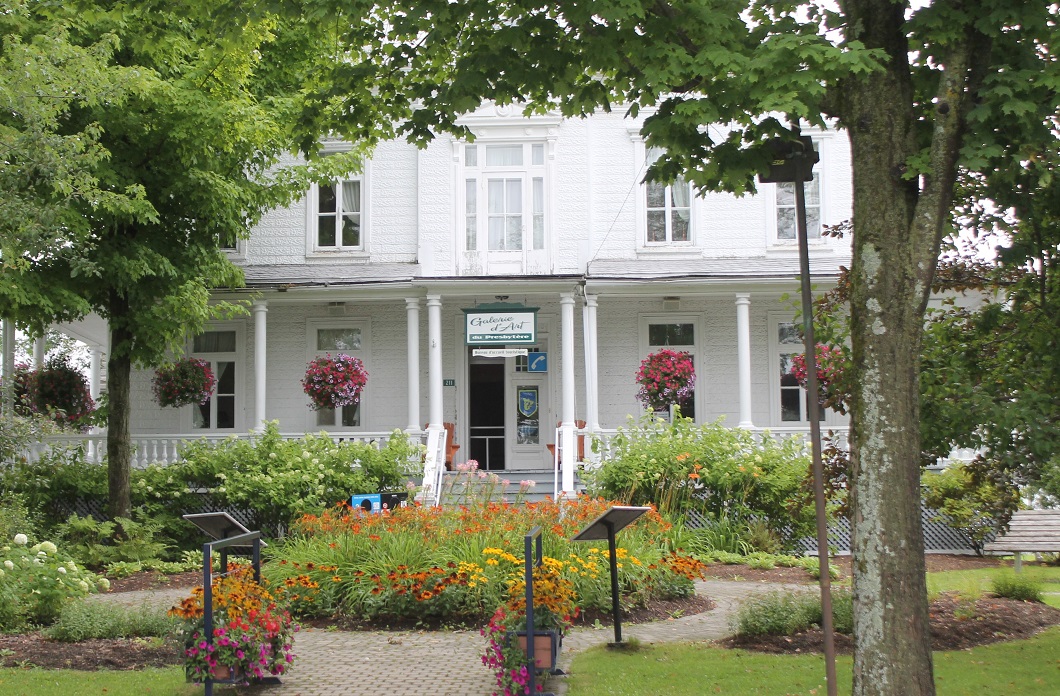 Heighten your experience in Lambton by exploring a historical and heritage route set up in the Cœur Villageois. This trail will help you discover some important events in the municipality's history.
Feel like taking your time and admiring some artwork?
Since 1992, the Galerie d'art du presbytère, located in a heritage building, has presented a summer exhibition from June 24 to Labour Day. Works from local artists and artisans are exhibited. These include oil and acrylic paintings, pastels, watercolours, sculptures, photographs, drawings, weaving, knitting and sewing work. There is also an exhibit of winning photos from the annual photo contest organized by the gallery.
Each year, the art gallery also organizes a painting symposium that brings together around 30 artists from all over Quebec who paint under tents set up around the rectory—a wonderful country festival for meeting new people.
[email protected]
Visit the Facebook page
Back to activities
Heritage and Historical Route – Galerie d'art du presbytère de Lambton
211 Rue Principale, Lambton, QC, Canada
Coeur villageois de Lambton
211, rue principale Lambton, Québec G0M 1H0
Boulangerie Lambton
248 Rue Principale, Lambton, QC, Canada
Lambton panoramic stop
302 Rue Principale, Lambton, QC, Canada
Pizzeria Casa-Deli
81 Rue Principale, Lambton, QC, Canada
Camping du Grand Lac St-François
158 Chemin J-Cyrille-Bureau, Lambton, QC, Canada
La Source
470 Route 263, Saint-Romain, QC, Canada
Camping, Chalets et Spas des Pignons Rouges
178 Chemin Beauchesne, Saint-Romain, QC, Canada
La Martine Products
184 Chemin Beauchesne, Saint-Romain, QC, Canada
Frontenac National Park
599 Chemin des Roy, Sainte-Praxède, QC, Canada
Massif de Winslow
599 Chemin des Roy, Sainte-Praxède, Québec G0M 1H1, Canada
La Ferme du Péché Mignon
110 1er Rang, Saint-Romain, QC, Canada
Sommets Étoilés stop - St-Romain
Rue Principale, Saint-Romain, Québec G0Y 1L0, Canada
Domaine Gagnon
284, rang 1 St-Romain, Québec, G0Y 1L0
Club de ski de fond et raquette St-Romain
320 Route Dostie, Saint-Romain, QC, Canada
St-Romain Zec
707 Route 108, Saint-Romain, QC, Canada
St-Sébastien Stop
Route 263, Saint-Sébastien, QC, Canada
Parc Stornoway
route 161 & chemin du parc, stornoway, Qc, G0Y 1N0
Ranch Winslow
920, route 161, stornoway, qc, G0Y 1N0
Stornoway stop
570 QC-108, Stornoway, QC G0Y 1N0, Canada
Les Jardins des tisÂNES
485 Avenue Centrale Sud, Stratford, QC, Canada
Restaurant Le Myriade
189 Avenue Centrale Nord, Stratford, QC, Canada
Le Morne de Saint-Sébastien
301 Route du Morne, Lac-Drolet, Québec G0Y 1C0, Canada
Sentiers du Morne
301, route du Morne, Lac-Drolet (Québec) G0Y 1C0
Sentiers du Morne
301, route du Morne, Lac-Drolet (Québec) G0Y 1C0
La Maison du Granit
301 Route du Morne, Lac-Drolet, QC, Canada
Gîte La Petite École
95 Québec 161, Stornoway, QC G0Y 1N0, Canada
Le Nirvana de la Faune
854 Chemin de Stratford, Stratford, QC, Canada
Ferme Couture
983 Chemin de Stratford, Stratford, QC, Canada
Lac-Drolet stop - Parc du Lac
1016 Chemin Principal, Lac-Drolet, QC, Canada