Frontenac National Park
599 Chemin des Roy, Sainte-Praxède, QC, Canada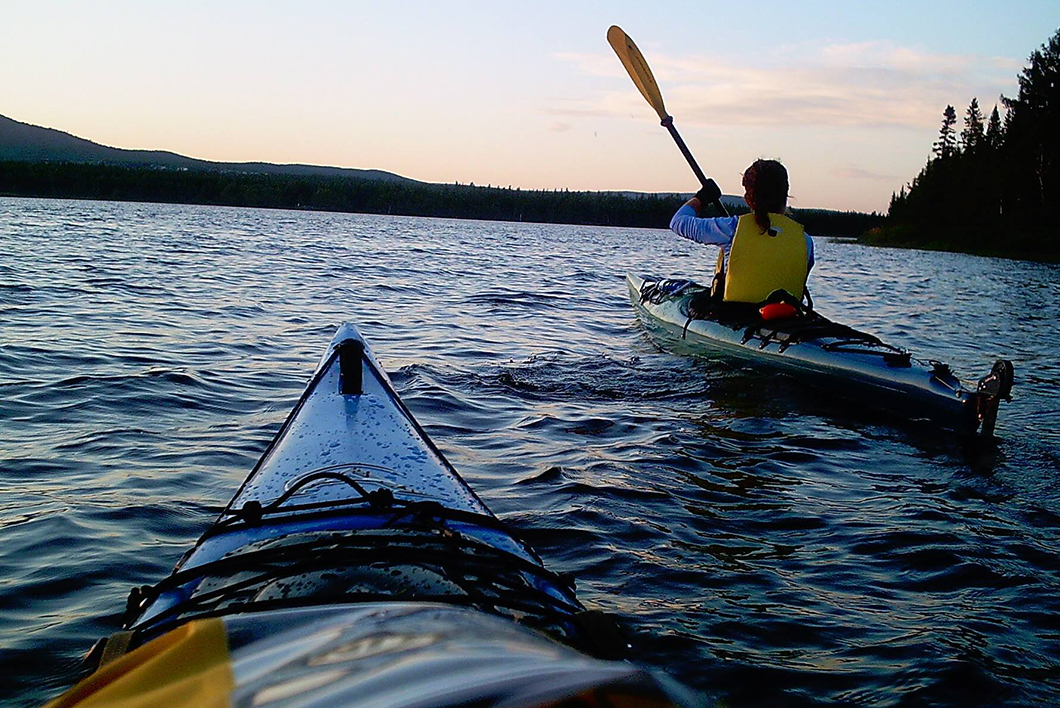 An oasis of water and hills, Frontenac National Park has an area of 155 km2 and sits on the shores of Grand lac Saint-François. A choice place for water sports and the discovery of unique ecosystems, this provincial park includes the third-largest lake south of the Saint Lawrence. Grand lac Saint-François lets the soft adventure lover in you to travel from bay to bay, exploring highly diverse plant and animal life.
You can rent equipment (canoes, kayaks, paddleboards, rowboats and bikes) at Baie Sauvage (south area), Baie aux Rats-Musqués (Saint-Daniel area) and at the two inner lakes in the park, Lac à la Barbue (canoes) and Lac des Îles (south area, canoes). Let the sparkling waves gently rock you and enjoy the three water routes that are perfect for observation and relaxation.
Do you love winter? Snowshoers can take all the routes and trails in the park, with the exception of the Tourbière trails, to enjoy the calm, peaceful countryside. In the south area of the park, there's a trail network totalling 11 km of pure fun. The Érablière trail, located at the entrance to the south area, offers amazing lookout points over Grand lac Saint-François.
Services available with reservation: rustic camp rental.
Back to activities
Frontenac National Park
599 Chemin des Roy, Sainte-Praxède, QC, Canada
Massif de Winslow
599 Chemin des Roy, Sainte-Praxède, Québec G0M 1H1, Canada
Camping du Grand Lac St-François
158 Chemin J-Cyrille-Bureau, Lambton, QC, Canada
Lambton panoramic stop
302 Rue Principale, Lambton, QC, Canada
Boulangerie Lambton
248 Rue Principale, Lambton, QC, Canada
Coeur villageois de Lambton
211, rue principale Lambton, Québec G0M 1H0
Heritage and Historical Route – Galerie d'art du presbytère de Lambton
211 Rue Principale, Lambton, QC, Canada
Pizzeria Casa-Deli
81 Rue Principale, Lambton, QC, Canada
La Source
470 Route 263, Saint-Romain, QC, Canada
Camping, Chalets et Spas des Pignons Rouges
178 Chemin Beauchesne, Saint-Romain, QC, Canada
La Martine Products
184 Chemin Beauchesne, Saint-Romain, QC, Canada
Sommets Étoilés stop - St-Romain
Rue Principale, Saint-Romain, Québec G0Y 1L0, Canada
La Ferme du Péché Mignon
110 1er Rang, Saint-Romain, QC, Canada
Club de ski de fond et raquette St-Romain
320 Route Dostie, Saint-Romain, QC, Canada
Domaine Gagnon
284, rang 1 St-Romain, Québec, G0Y 1L0
St-Romain Zec
707 Route 108, Saint-Romain, QC, Canada
Ranch Winslow
920, route 161, stornoway, qc, G0Y 1N0
Les Jardins des tisÂNES
485 Avenue Centrale Sud, Stratford, QC, Canada
Restaurant Le Myriade
189 Avenue Centrale Nord, Stratford, QC, Canada
Ferme Couture
983 Chemin de Stratford, Stratford, QC, Canada
Le Nirvana de la Faune
854 Chemin de Stratford, Stratford, QC, Canada
Stornoway stop
570 QC-108, Stornoway, QC G0Y 1N0, Canada
Parc Stornoway
route 161 & chemin du parc, stornoway, Qc, G0Y 1N0
St-Sébastien Stop
Route 263, Saint-Sébastien, QC, Canada
Parc du Lac Aylmer and Marais Maskinongé
505 Chemin du Domaine Aylmer, Stratford, QC, Canada
Gîte La Petite École
95 Québec 161, Stornoway, QC G0Y 1N0, Canada
Station touristique Baie-des-Sables & Arbre-en-Arbre