Parc du Lac Aylmer and Marais Maskinongé
505 Chemin du Domaine Aylmer, Stratford, QC, Canada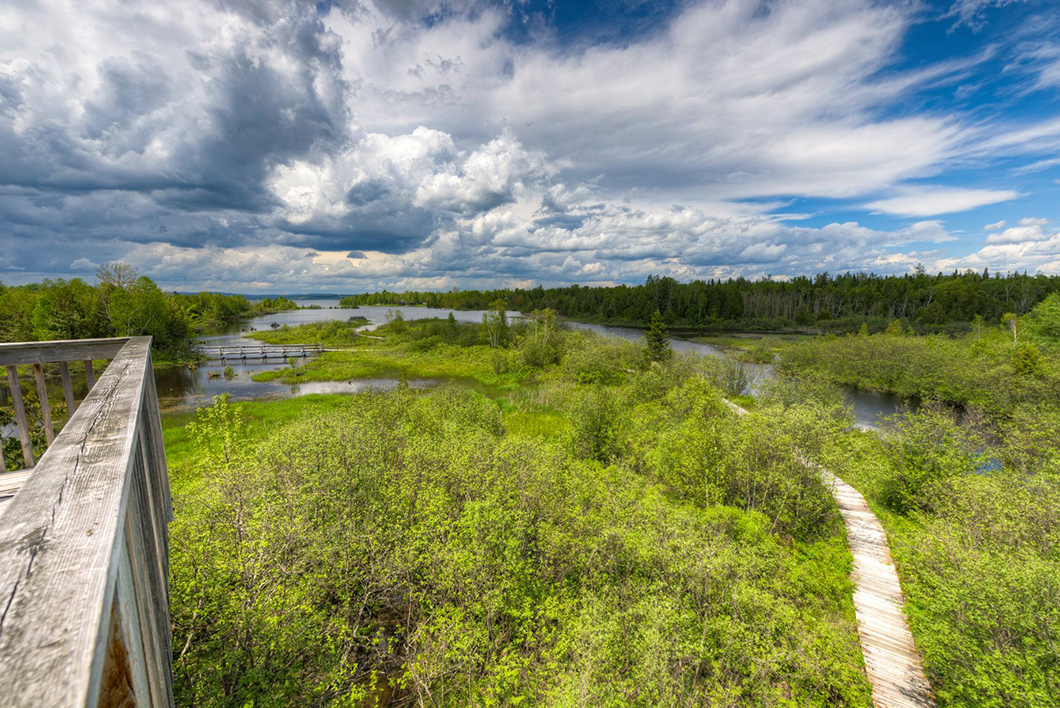 ***You can also go snowshoeing in winter, but no services are available on site (no bathrooms)***
Located in Stratford, on the border between the Eastern Townships and the Chaudière-Appalaches region, Parc du Lac Aylmer offers outdoor activities in a splendid location. Whether you want to lounge on the beach or explore the marsh by kayak, you're guaranteed to have a good time.
Observe the biodiversity of Marais Maskinongé by following the 1.6-km trail. Footpaths and a boardwalk will help you to cross the winding ponds and wetlands that are typical of this environment. Get a panoramic view of the marsh from the 24-foot-high observation tower. You can also paddle a kayak up the Maskinongé River, which criss-crosses the path.
Length: 1.6 km (linear)
Start: Chemin du Domaine Aylmer
End: Chemin du Domaine Aylmer
Number of trails: 1 marked
Difficulty level: Easy
Features: lookouts, footpaths with bridges, 24-foot observation tower.
Lac-Aylmer Park Rustic Camping
The Lac-Aylmer Park rustic camping is a great place to connect with nature. The campsites are close to the reception building, the Maskinongé marsh trails and the beach. Kayaks and paddle boards are available for rent. It is also possible to launch your own boat.
· 12 sites without services, equipped with a picnic table and for 11 of them, a fire pit that also allows cooking.
· Some sites can accommodate more than one tent.
· Access to the sites is by foot.
· A parking lot is reserved for campers and carts are available to transport equipment.
· Campers have access to the sanitary block located near the reception building with 2 toilets and a shower. A sink with hot water is located next to the sanitary block and is available to campers.
· Wireless internet access is available and free of charge at the reception building.
· Wood, ice and emergency supplies are sold on site.
Back to activities
Parc du Lac Aylmer and Marais Maskinongé
505 Chemin du Domaine Aylmer, Stratford, QC, Canada
Le Nirvana de la Faune
854 Chemin de Stratford, Stratford, QC, Canada
Ferme Couture
983 Chemin de Stratford, Stratford, QC, Canada
Restaurant Le Myriade
189 Avenue Centrale Nord, Stratford, QC, Canada
Du Barrage stop – Weedon
423 QC-161, Weedon, QC J0B 3J0, Canada
Fromagerie P'tit Plaisir
503 Rue de la Carrière, Weedon, Québec J0B 3J0, Canada
Les Jardins des tisÂNES
485 Avenue Centrale Sud, Stratford, QC, Canada
Ranch Winslow
920, route 161, stornoway, qc, G0Y 1N0
Restaurant bar Le Moulin
481 2e Av, Weedon, QC, Canada
Centre culturel de Weedon and Galerie d'Art Le Harfang
280, 9e avenue, Weedon, Québec, J0B 3J0
Restaurant Da Rita
353 Rue Saint Janvier, Weedon, QC, Canada
Parc du Vieux Moulin & Fresque de Weedon
164 Rue Saint Janvier, Weedon, QC, Canada
Stornoway stop
570 QC-108, Stornoway, QC G0Y 1N0, Canada
Frontenac National Park
599 Chemin des Roy, Sainte-Praxède, QC, Canada
Massif de Winslow
599 Chemin des Roy, Sainte-Praxède, Québec G0M 1H1, Canada
St-Romain Zec
707 Route 108, Saint-Romain, QC, Canada
Club de ski de fond et raquette St-Romain
320 Route Dostie, Saint-Romain, QC, Canada
Camping du Mont Ham-Sud
500 Chemin des Pionniers, Ham-Sud, QC, Canada
Camping Beau-Soleil
1225, route 112, Weedon, Québec, J0B 3J0
Ferme Renaissance
1120 2e Rang Sud, Weedon, QC J0B 3J0, Canada
Camping, Chalets et Spas des Pignons Rouges
178 Chemin Beauchesne, Saint-Romain, QC, Canada
Parc Stornoway
route 161 & chemin du parc, stornoway, Qc, G0Y 1N0
La Source
470 Route 263, Saint-Romain, QC, Canada
La Martine Products
184 Chemin Beauchesne, Saint-Romain, QC, Canada
Sommets Étoilés stop - St-Romain
Rue Principale, Saint-Romain, Québec G0Y 1L0, Canada
Camping du Grand Lac St-François
158 Chemin J-Cyrille-Bureau, Lambton, QC, Canada
Auberge La Mara
127 Chemin Gosford Sud, Ham-Sud, QC, Canada
Ferme paysanne La Bardâne / Donkey farm, herbalist and soap maker
271, rang 1, Saint-Joseph-de-Ham-Sud, QC J0B 3J0, Canada