Cœur Villageois de Scotstown
101, Chemin Victoria ouest, Scotstown, Québec J0b 3B0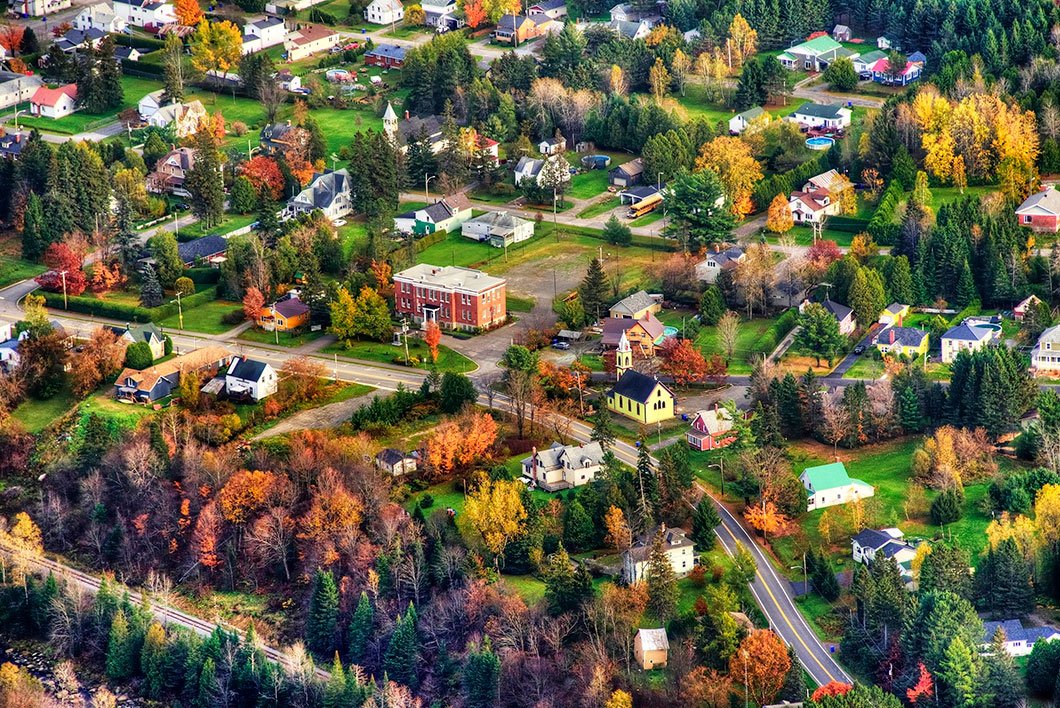 "Here, we make the good times last…" This is the promise of the Cœurs Villageois!
The Cœurs Villageois stand out for all sorts of reasons. They are driven to grow, highlight the best of what they have to offer, promote local products, feature exceptional services, activities and attractions, and open their hearts so that each and every visitor feels like they're with friends!
In Scotstown, go back in time and learn more about the Scottish roots of this Eastern Townships village. Through the heritage and historical route, you'll discover ancestral homes and exceptional industrial buildings: the train station, doctor's house and old school. The Circuit des Clans invites you to discover houses identified with the name and Scottish clan tartan of the family who used to live there.
You can also treat yourself at the legendary Charcuterie Scotstown deli, a real delicacy. Stock up! After that, unwind at Parc Walter-Mackenzie, take a walk on the trails at Parc régional du Marécage-des-Scots or observe the heavens at night!
The Cœur villageois de Scotstown is all that and more! Add this stop to your adventure on Summit Drive!
Back to activities
Cœur Villageois de Scotstown
101, Chemin Victoria ouest, Scotstown, Québec J0b 3B0
Charcuterie de Scotstown
40 Chemin Victoria Ouest, Scotstown, QC, Canada
Parc régional du Marécage-des-Scots
15 Chemin Victoria Est, Scotstown, Québec J0B 3B0, Canada
Pain de sucre
520 Chemin de Franceville, Scotstown, QC J0B 3E0
Montagne de Franceville
520 Chemin de Franceville, Scotstown, QC J0B 3B0, Canada
Mont Mégantic
Chemin de l'Observatoire, La Patrie, QC J0B 1Y0, Canada
Éva-Senécal Stop – La Patrie
56 Rue Notre Dame O, La Patrie, QC J0B 1Y0, Canada
Resto-Bar La Patrie
10 Rue Principale Nord, La Patrie, Québec J0B 1Y0, Canada
Mont Saint-Joseph
189 Route du Parc, Notre-Dame-des-Bois, QC J0B 2E0, Canada
Centre d'interprétation de la Côte magnétique
134-138 Route 257, Chartierville, QC J0B 1K0, Canada
ASTROLab at Mont-Mégantic National Park
189 Route du Parc, Notre-Dame-des-Bois, QC, Canada
Giant Solar System
189 Route du Parc, Notre-Dame-des-Bois, QC, Canada
Mont-Mégantic National Park
189 Route du Parc, Notre-Dame-des-Bois, QC, Canada
Mont Victoria
189 Route du Parc, Notre-Dame-des-Bois, QC J0B 2E0, Canada
Village stop – Val Racine
2991 Chemin St Léon, Val-Racine, QC, Canada
Mini Compostelle Mégantic
2991 Chemin Saint Léon, Val-Racine, QC, Canada
Zenderfull: excursions under the stars
4410 Chemin de la Montagne, Val-Racine, QC, Canada
Les chalets de la Vallée Étoilée
128-C, route 212 est, La Patrie, Québec, J0B 1Y0
Camping et Chalet dans les Arbres Mont-Mégantic
4149 Chemin de la Montagne, Val-Racine, QC, Canada
Domaine des Montagnais
203 Chemin de la Fôret Enchantée, Val-Racine, QC, Canada
Centre d'interprétation de la mine d'or
200, route 257, Chartierville, Québec, J0B 1K0
Aux Berges de l'Aurore
139 Route du Parc, Notre-Dame-des-Bois, QC, Canada
Ferme Terre-Vent
139 Route du Parc, Notre-Dame-des-Bois, QC, Canada
Au domaine de La Giroux-ette
141, route 212 Est, La Patrie, QC, Canada
Ferme Renaissance
1120 2e Rang Sud, Weedon, QC J0B 3J0, Canada
Cœur villageois de Piopolis