Centre d'interprétation de la mine d'or
200, route 257, Chartierville, Québec, J0B 1K0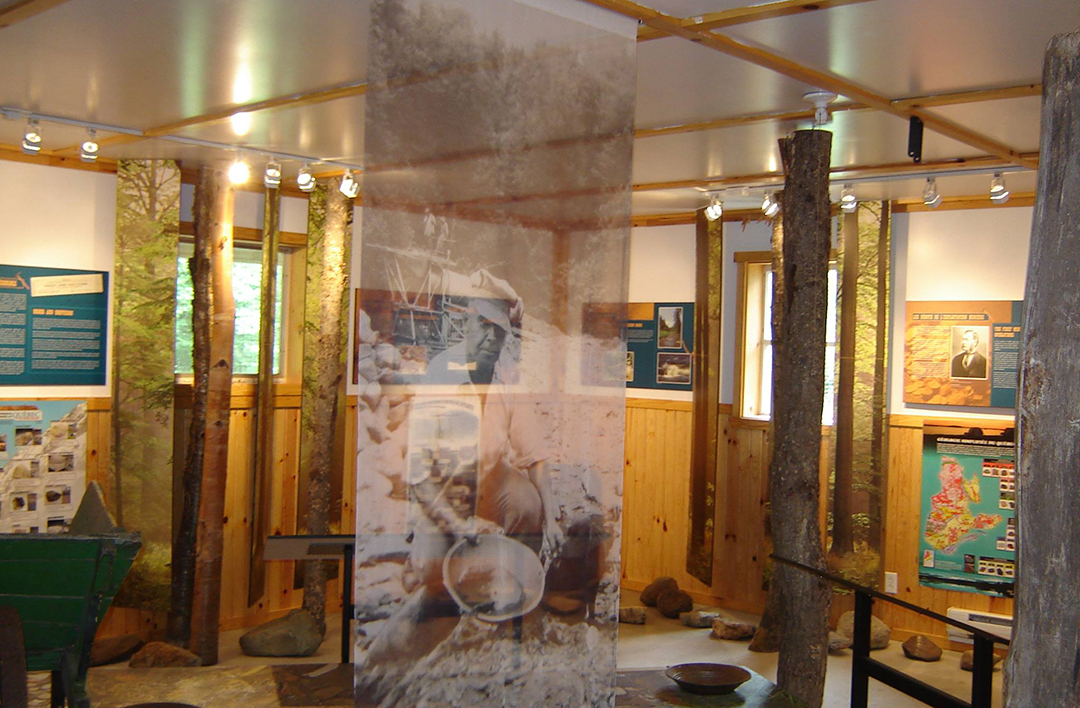 Lots of activities await you at the Centre d'interprétation at the former gold mine on Ruisseau Mining.
Learn about an old gold extraction technique, panning. Have fun and keep your eyes open for your own gold nugget!
Discover the fascinating history of the site and the people who worked there from 1862 to 1960.
The mineral exhibit wall explains how rocks, minerals and gold are formed underground. Beautiful samples will pique your curiosity. You will learn the basics of mineralogy and geology.
Gold Mine Trail
A marked trail (3.5 km, or 7 km round trip) and a suspended footbridge will take you to the abandoned gold mine. Head off on an adventure on this easy to intermediate trail. Plan around three hours so that you can go at your own pace. Bring supplies, water and snacks, and how about a picnic? There's a must-see near the end of the trail: the Ruisseau Mining falls. Take a well-deserved break before returning to the Centre d'interprétation.
You can even bring Fido on the walk with you, as long as he's on a leash.
Be careful: taking this trail during hunting season is not recommended. Get informed before your adventure on the Gold Mine Trail!
Back to activities
Centre d'interprétation de la mine d'or
200, route 257, Chartierville, Québec, J0B 1K0
Centre d'interprétation de la Côte magnétique
134-138 Route 257, Chartierville, QC J0B 1K0, Canada
Resto-Bar La Patrie
10 Rue Principale Nord, La Patrie, Québec J0B 1Y0, Canada
Les chalets de la Vallée Étoilée
128-C, route 212 est, La Patrie, Québec, J0B 1Y0
Éva-Senécal Stop – La Patrie
56 Rue Notre Dame O, La Patrie, QC J0B 1Y0, Canada
Au domaine de La Giroux-ette
141, route 212 Est, La Patrie, QC, Canada
Mont Victoria
189 Route du Parc, Notre-Dame-des-Bois, QC J0B 2E0, Canada
ASTROLab at Mont-Mégantic National Park
189 Route du Parc, Notre-Dame-des-Bois, QC, Canada
Giant Solar System
189 Route du Parc, Notre-Dame-des-Bois, QC, Canada
Mont-Mégantic National Park
189 Route du Parc, Notre-Dame-des-Bois, QC, Canada
Aux Berges de l'Aurore
139 Route du Parc, Notre-Dame-des-Bois, QC, Canada
Ferme Terre-Vent
139 Route du Parc, Notre-Dame-des-Bois, QC, Canada
Mont Mégantic
Chemin de l'Observatoire, La Patrie, QC J0B 1Y0, Canada
Le Chalet du Randonneur
40 Route de l'Église, Notre-Dame-des-Bois, QC, Canada
Mont Saint-Joseph
189 Route du Parc, Notre-Dame-des-Bois, QC J0B 2E0, Canada
Herboristerie Apoteka
35 Rue Principale Est, Notre-Dame-des-Bois, QC, Canada
Pain de sucre
520 Chemin de Franceville, Scotstown, QC J0B 3E0
Plein La Vue stop – Notre-Dame-des-Bois
58-56 QC-212, Notre-Dame-des-Bois, QC J0B 2E0, Canada
Montagne de Marbre
10e Rang E, Notre-Dame-des-Bois, Le Granit, QC J0B 2E0, Canada
Zenderfull: excursions under the stars
4410 Chemin de la Montagne, Val-Racine, QC, Canada
Mont Saddle
10e Rang E, Notre-Dame-des-Bois, Le Granit, QC J0B 2E0, Canada
Côte des lignes
164 Québec 257, Chartierville, QC J0B 1K0, Canada
Camping et Chalet dans les Arbres Mont-Mégantic
4149 Chemin de la Montagne, Val-Racine, QC, Canada
Chalet L'Étoile de la Montagne
80 Québec 212, Notre-Dame-des-Bois, QC, Canada
Domaine Lauz Altitude – Chalet de l'Orignal and Chalet du Chevreuil
161, route St-Hyacinthe, Chartierville, Québec, J0B 1K0
Les Sentiers Frontaliers
171 Rte St Hyacinthe, Chartierville, QC J0B 1K0, Canada
Montagne de Franceville
520 Chemin de Franceville, Scotstown, QC J0B 3B0, Canada
Domaine des Montagnais
203 Chemin de la Fôret Enchantée, Val-Racine, QC, Canada
Le Marché des Appalaches
147 Québec 212, Notre-Dame-des-Bois, QC, Canada
Village stop – Val Racine
2991 Chemin St Léon, Val-Racine, QC, Canada
Mini Compostelle Mégantic
2991 Chemin Saint Léon, Val-Racine, QC, Canada
Cœur Villageois de Scotstown
101, Chemin Victoria ouest, Scotstown, Québec J0b 3B0
Charcuterie de Scotstown
40 Chemin Victoria Ouest, Scotstown, QC, Canada
Parc régional du Marécage-des-Scots
15 Chemin Victoria Est, Scotstown, Québec J0B 3B0, Canada
Parc du Lac Aylmer and Marais Maskinongé