ASTROLab at Mont-Mégantic National Park
189 Route du Parc, Notre-Dame-des-Bois, QC, Canada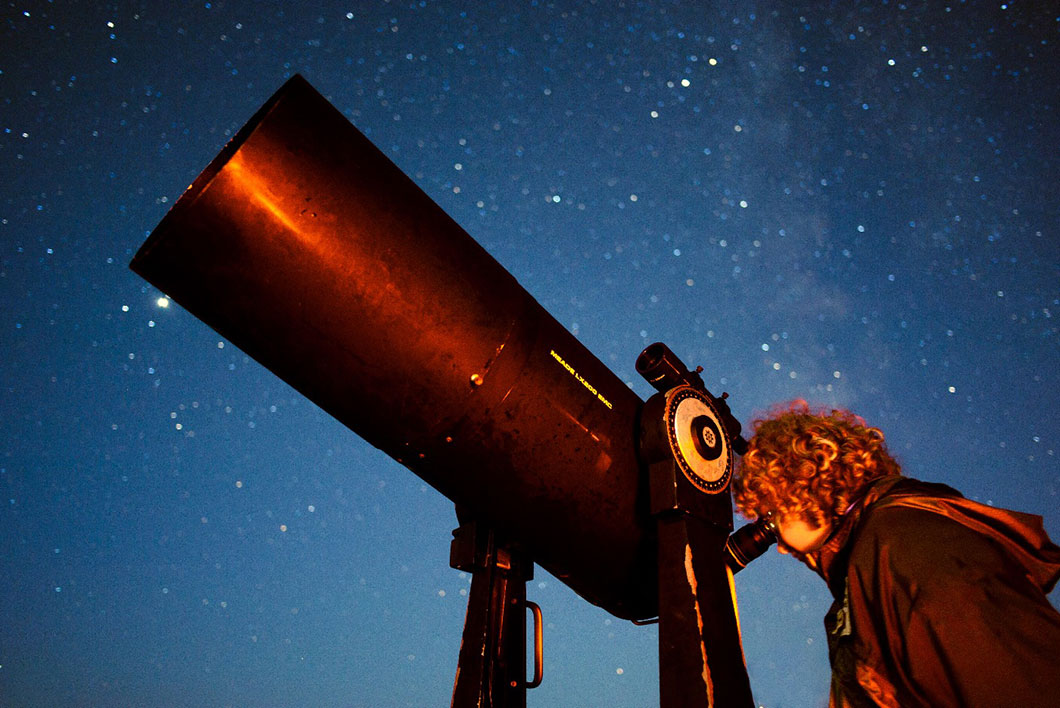 A unique voyage from the Earth to the stars! Come and enjoy the unique experience of stargazing in the heart of the first international dark sky reserve. This area that is protected from light pollution will blow you away! This exceptional status protects a disappearing natural heritage: a sky full of stars, the gateway to the universe.
This is an invitation to preserve, protect and discover this precious territory of Mont-Mégantic National Park. At ASTROLab, the astronomy museum and activity centre, you will have the opportunity to learn more about the origins of the universe. Astronomy nights are masterfully led by passionate hosts who will answer all the questions that cross your mind. On clear nights, the heavens invite you to their show. In winter, astronomy is combined with torch-lit walks … simply magical!
Prepare to be amazed and to feel like a grain of sand within the vastness of the universe!
Photo credit: Parc national du Mont-Mégantic
Back to activities
ASTROLab at Mont-Mégantic National Park
189 Route du Parc, Notre-Dame-des-Bois, QC, Canada
Giant Solar System
189 Route du Parc, Notre-Dame-des-Bois, QC, Canada
Mont-Mégantic National Park
189 Route du Parc, Notre-Dame-des-Bois, QC, Canada
Mont Victoria
189 Route du Parc, Notre-Dame-des-Bois, QC J0B 2E0, Canada
Aux Berges de l'Aurore
139 Route du Parc, Notre-Dame-des-Bois, QC, Canada
Ferme Terre-Vent
139 Route du Parc, Notre-Dame-des-Bois, QC, Canada
Mont Saint-Joseph
189 Route du Parc, Notre-Dame-des-Bois, QC J0B 2E0, Canada
Au domaine de La Giroux-ette
141, route 212 Est, La Patrie, QC, Canada
Zenderfull: excursions under the stars
4410 Chemin de la Montagne, Val-Racine, QC, Canada
Mont Mégantic
Chemin de l'Observatoire, La Patrie, QC J0B 1Y0, Canada
Les chalets de la Vallée Étoilée
128-C, route 212 est, La Patrie, Québec, J0B 1Y0
Camping et Chalet dans les Arbres Mont-Mégantic
4149 Chemin de la Montagne, Val-Racine, QC, Canada
Le Chalet du Randonneur
40 Route de l'Église, Notre-Dame-des-Bois, QC, Canada
Herboristerie Apoteka
35 Rue Principale Est, Notre-Dame-des-Bois, QC, Canada
Domaine des Montagnais
203 Chemin de la Fôret Enchantée, Val-Racine, QC, Canada
Plein La Vue stop – Notre-Dame-des-Bois
58-56 QC-212, Notre-Dame-des-Bois, QC J0B 2E0, Canada
Chalet L'Étoile de la Montagne
80 Québec 212, Notre-Dame-des-Bois, QC, Canada
Mini Compostelle Mégantic
2991 Chemin Saint Léon, Val-Racine, QC, Canada
Village stop – Val Racine
2991 Chemin St Léon, Val-Racine, QC, Canada
Montagne de Franceville
520 Chemin de Franceville, Scotstown, QC J0B 3B0, Canada
Centre d'interprétation de la Côte magnétique
134-138 Route 257, Chartierville, QC J0B 1K0, Canada
Centre d'interprétation de la mine d'or
200, route 257, Chartierville, Québec, J0B 1K0
Pain de sucre
520 Chemin de Franceville, Scotstown, QC J0B 3E0
Resto-Bar La Patrie
10 Rue Principale Nord, La Patrie, Québec J0B 1Y0, Canada
Éva-Senécal Stop – La Patrie
56 Rue Notre Dame O, La Patrie, QC J0B 1Y0, Canada
Le Marché des Appalaches
147 Québec 212, Notre-Dame-des-Bois, QC, Canada
Montagne de Marbre
10e Rang E, Notre-Dame-des-Bois, Le Granit, QC J0B 2E0, Canada
Mont Saddle
10e Rang E, Notre-Dame-des-Bois, Le Granit, QC J0B 2E0, Canada
Charcuterie de Scotstown
40 Chemin Victoria Ouest, Scotstown, QC, Canada
Parc régional du Marécage-des-Scots
15 Chemin Victoria Est, Scotstown, Québec J0B 3B0, Canada
Cœur Villageois de Scotstown
101, Chemin Victoria ouest, Scotstown, Québec J0b 3B0
Domaine Sous un Ciel Étoilé
3290 Québec 212, Woburn, QC, Canada
Cœur villageois de Piopolis
403, rue Principale, Piopolis, Québec, G0Y 1H0
Scotch Cap
784 Chemin de la Rivière-Bergeron, Piopolis, QC G0Y 1H0, Canada
Magasin Général de Piopolis
454 Rue Principale, Piopolis, QC, Canada
Clocher Trails
472 Rue Principale, Piopolis, QC, Canada
Des Zouaves stop – Piopolis
472 Rue Principale, Piopolis, QC, Canada
Auberge Au Soleil Levant – Resto Pub
499 Rue Principale, Piopolis, QC, Canada
Solstice Plein Air
515 Rue Principale, Piopolis, QC, Canada
Marina de Piopolis
516 Rue Principale, Piopolis, QC G0Y 1H0, Canada
Gîte Coté-Lac B&B
528 Chemin de la Rivière-Bergeron, Piopolis, QC, Canada
Camping Municipal de Piopolis
109 Chemin de la Plage, Piopolis, QC, Canada
Côte des lignes
164 Québec 257, Chartierville, QC J0B 1K0, Canada
Marston stop – Centre de Loisirs
130, route 263 sud, Marston, QC, Canada
Un Lac au Sommet Trail
130 Route 263, Marston, QC, Canada
Joseph-Alfred Fontaine stop – Woburn
Chemin de la Rivière-Bergeron & Québec 161, Saint-Augustin-de-Woburn, QC, Canada
Hébergement aux Cinq Sens
250 Rang des Grenier, Piopolis, QC, Canada
Domaine Lauz Altitude – Chalet de l'Orignal and Chalet du Chevreuil
161, route St-Hyacinthe, Chartierville, Québec, J0B 1K0
Les Sentiers Frontaliers
171 Rte St Hyacinthe, Chartierville, QC J0B 1K0, Canada