Les Jardins des tisÂNES
485 Avenue Centrale Sud, Stratford, QC, Canada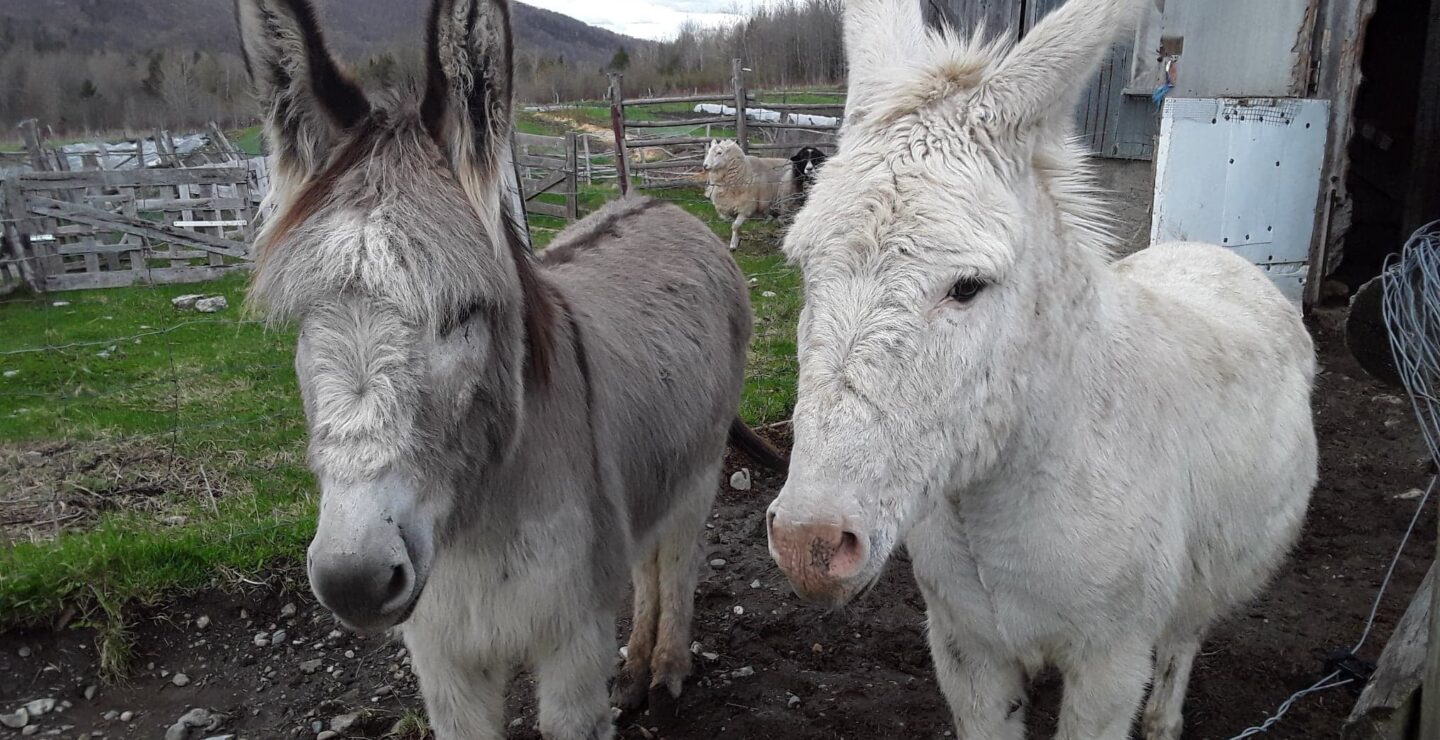 Les Jardins des tisÂnes is a biological vegetable farm that produces fruit, vegetables and medicinal plants. Part of the land preparation work is done through animal traction, using donkeys.
Shop OPEN from mid-May to mid-November
In the shop you'll find:
Organic vegetables from the farm
Gourmet meals for hikers, made with dehydrated organic vegetables from the farm
Medicinal plants from the farm (herbal teas and ointments)
Organic vegetables from other producers
Various processed products from local artisans (different sauces, maple products, pickles, jams, etc.)
Bulk organic products
A variety of beverages
Meat from small local producers who treat their animals humanely
Organic cheeses
You can take in the scenery and relax at a table overlooking the greenhouse and the animals as you enjoy our local products. Unwind and appreciate the moment.
Available on site: a box of books, board games and musical instruments. Tastings will occasionally be offered. Farm visits on Saturdays only.
Visit the website for opening hours
See the activities
Restaurant Le Myriade
189 Avenue Centrale Nord, Stratford, QC, Canada
Ranch Winslow
920, route 161, stornoway, qc, G0Y 1N0
Le Nirvana de la Faune
854 Chemin de Stratford, Stratford, QC, Canada
Parc du Lac Aylmer and Marais Maskinongé
505 Chemin du Domaine Aylmer, Stratford, QC, Canada
Ferme Couture
983 Chemin de Stratford, Stratford, QC, Canada
Stornoway stop
570 QC-108, Stornoway, QC G0Y 1N0, Canada
Du Barrage stop – Weedon
423 QC-161, Weedon, QC J0B 3J0, Canada
Fromagerie P'tit Plaisir
503 Rue de la Carrière, Weedon, Québec J0B 3J0, Canada
Club de ski de fond et raquette St-Romain
320 Route Dostie, Saint-Romain, QC, Canada
St-Romain Zec
707 Route 108, Saint-Romain, QC, Canada
Frontenac National Park
599 Chemin des Roy, Sainte-Praxède, QC, Canada
Massif de Winslow
599 Chemin des Roy, Sainte-Praxède, Québec G0M 1H1, Canada
Camping, Chalets et Spas des Pignons Rouges
178 Chemin Beauchesne, Saint-Romain, QC, Canada
Parc Stornoway
route 161 & chemin du parc, stornoway, Qc, G0Y 1N0
La Martine Products
184 Chemin Beauchesne, Saint-Romain, QC, Canada
La Source
470 Route 263, Saint-Romain, QC, Canada
Sommets Étoilés stop - St-Romain
Rue Principale, Saint-Romain, Québec G0Y 1L0, Canada
Camping du Grand Lac St-François
158 Chemin J-Cyrille-Bureau, Lambton, QC, Canada
Lambton panoramic stop
302 Rue Principale, Lambton, QC, Canada
Gîte La Petite École
95 Québec 161, Stornoway, QC G0Y 1N0, Canada
Boulangerie Lambton
248 Rue Principale, Lambton, QC, Canada
Coeur villageois de Lambton
211, rue principale Lambton, Québec G0M 1H0
Heritage and Historical Route – Galerie d'art du presbytère de Lambton
211 Rue Principale, Lambton, QC, Canada
La Ferme du Péché Mignon
110 1er Rang, Saint-Romain, QC, Canada
Pizzeria Casa-Deli
81 Rue Principale, Lambton, QC, Canada
Restaurant bar Le Moulin
481 2e Av, Weedon, QC, Canada
Centre culturel de Weedon and Galerie d'Art Le Harfang
280, 9e avenue, Weedon, Québec, J0B 3J0
Restaurant Da Rita
353 Rue Saint Janvier, Weedon, QC, Canada
Parc du Vieux Moulin & Fresque de Weedon
164 Rue Saint Janvier, Weedon, QC, Canada
Domaine Gagnon
284, rang 1 St-Romain, Québec, G0Y 1L0
Le Cerf Nature – Érablière du Cerf Rouge