Pain de sucre
520 Chemin de Franceville, Scotstown, QC J0B 3E0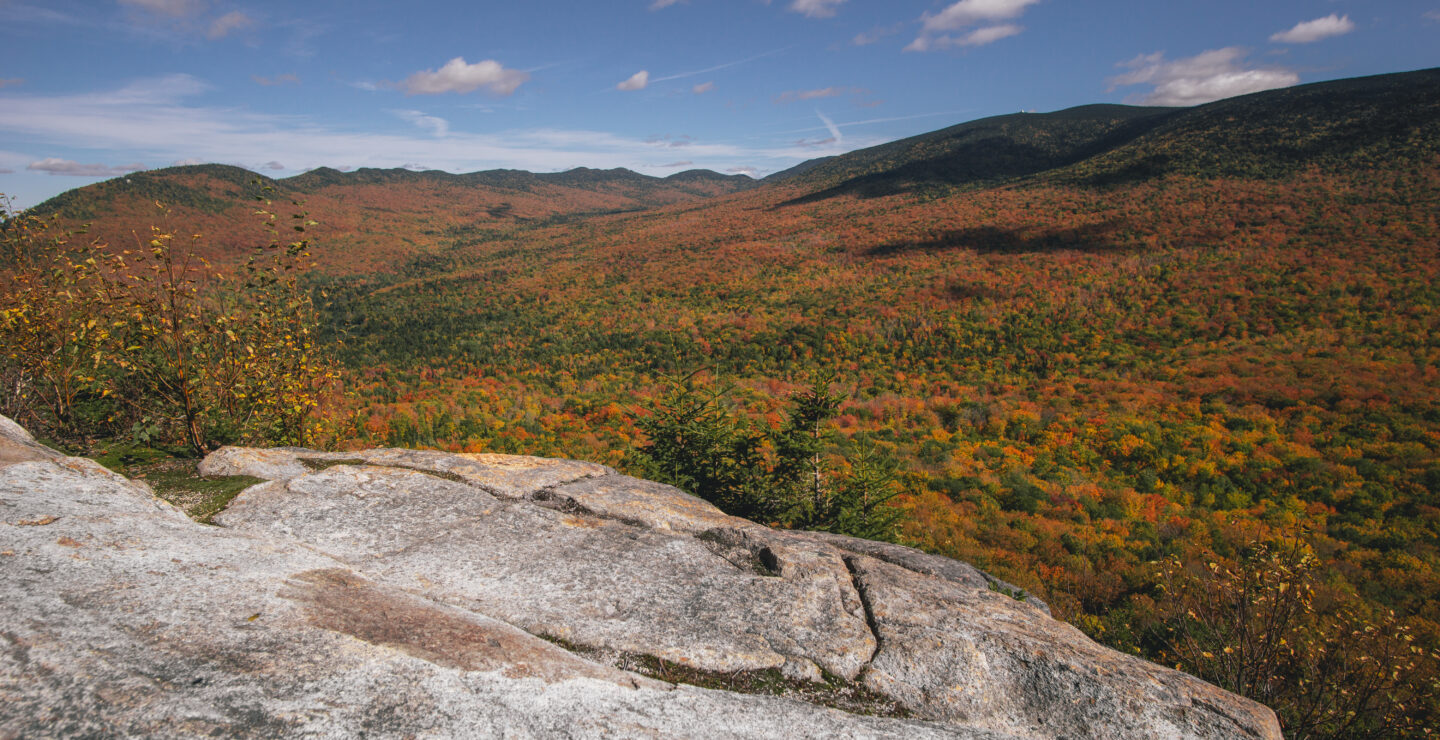 The Contemplative One
Altitude: 665 m
Drop: 180 m
Length: 6.4 km
Type: Monteregian Hills, loop
Duration: 3:00
Level: Intermediate
With a bird's eye view of the interior of the massif, the Escarpements trail will please adventurers young and old, whatever the season.
The Escarpements trail boasts spectacular attractions: numerous cliffs, narrow rifts, overhanging rocks, imposing taluses, lush mosses and lichens, and dizzying lookouts. You'll feel like real explorers during your adventure! An ideal hike for beginners, it runs along a beautiful river and is dotted with several rest stops. You can also admire Mont Mégantic and its observatory from there.
The surrounding mountains are even higher, which gives an unexpected character to the main lookout point on the route: a spectacular low-angle effect. With the Ruisseau-de-la-Montagne drainage basin at your feet, you'll feel dizzy! It's a walk filled with all kinds of emotions!
See the summits
Pain de sucre
520 Chemin de Franceville, Scotstown, QC J0B 3E0
Montagne de Franceville
520 Chemin de Franceville, Scotstown, QC J0B 3B0, Canada
Mont Mégantic
Chemin de l'Observatoire, La Patrie, QC J0B 1Y0, Canada
Charcuterie de Scotstown
40 Chemin Victoria Ouest, Scotstown, QC, Canada
Parc régional du Marécage-des-Scots
15 Chemin Victoria Est, Scotstown, Québec J0B 3B0, Canada
Cœur Villageois de Scotstown
101, Chemin Victoria ouest, Scotstown, Québec J0b 3B0
Mont Saint-Joseph
189 Route du Parc, Notre-Dame-des-Bois, QC J0B 2E0, Canada
ASTROLab at Mont-Mégantic National Park
189 Route du Parc, Notre-Dame-des-Bois, QC, Canada
Giant Solar System
189 Route du Parc, Notre-Dame-des-Bois, QC, Canada
Mont-Mégantic National Park
189 Route du Parc, Notre-Dame-des-Bois, QC, Canada
Mont Victoria
189 Route du Parc, Notre-Dame-des-Bois, QC J0B 2E0, Canada
Resto-Bar La Patrie
10 Rue Principale Nord, La Patrie, Québec J0B 1Y0, Canada
Éva-Senécal Stop – La Patrie
56 Rue Notre Dame O, La Patrie, QC J0B 1Y0, Canada
Zenderfull: excursions under the stars
4410 Chemin de la Montagne, Val-Racine, QC, Canada
Les chalets de la Vallée Étoilée
128-C, route 212 est, La Patrie, Québec, J0B 1Y0
Centre d'interprétation de la Côte magnétique
134-138 Route 257, Chartierville, QC J0B 1K0, Canada
Aux Berges de l'Aurore
139 Route du Parc, Notre-Dame-des-Bois, QC, Canada
Ferme Terre-Vent
139 Route du Parc, Notre-Dame-des-Bois, QC, Canada
Camping et Chalet dans les Arbres Mont-Mégantic
4149 Chemin de la Montagne, Val-Racine, QC, Canada
Village stop – Val Racine
2991 Chemin St Léon, Val-Racine, QC, Canada
Mini Compostelle Mégantic
2991 Chemin Saint Léon, Val-Racine, QC, Canada
Au domaine de La Giroux-ette
141, route 212 Est, La Patrie, QC, Canada
Domaine des Montagnais
203 Chemin de la Fôret Enchantée, Val-Racine, QC, Canada
Centre d'interprétation de la mine d'or
200, route 257, Chartierville, Québec, J0B 1K0
Le Chalet du Randonneur
40 Route de l'Église, Notre-Dame-des-Bois, QC, Canada
Herboristerie Apoteka
35 Rue Principale Est, Notre-Dame-des-Bois, QC, Canada
Plein La Vue stop – Notre-Dame-des-Bois
58-56 QC-212, Notre-Dame-des-Bois, QC J0B 2E0, Canada
Chalet L'Étoile de la Montagne
80 Québec 212, Notre-Dame-des-Bois, QC, Canada
Le Marché des Appalaches
147 Québec 212, Notre-Dame-des-Bois, QC, Canada