Domaine Lauz Altitude – Chalet de l'Orignal and Chalet du Chevreuil
161, route St-Hyacinthe, Chartierville, Québec, J0B 1K0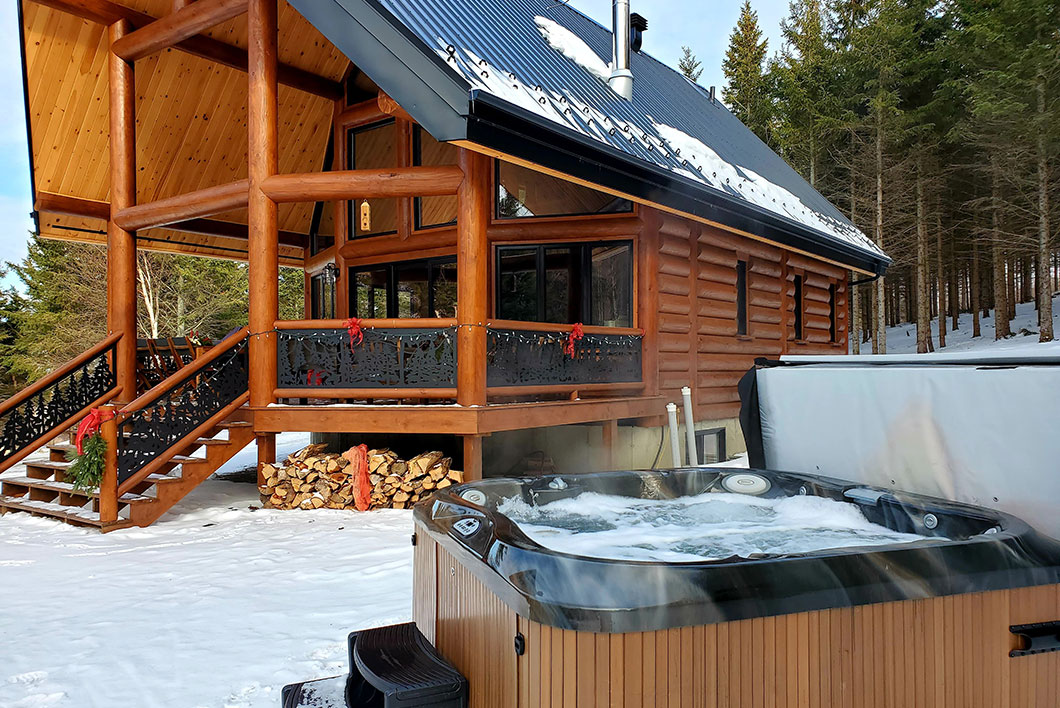 Chalet de l'Orignal
A spacious, welcoming mountain cabin that can house up to 12 people, located on an intimate wooded estate on the banks of a stream. It's fully equipped, so you only have to bring your clothes, food and cheer!
Chalet du Chevreuil
A charming little cabin that can house up to four people with a breathtaking panorama and an excellent view of Mont Mégantic.
Cabin address: 155 Route Saint-Hyacinthe, Chartierville.
Both locations are ideal for snowmobilers, an FCMQ snowmobile trail passes directly through our estate and also leads to trails in the United States. The private trails on our 800-acre estate also allow you to go off-trail snowmobiling. Guided snowshoeing tours are also available by reservation.
In the summer, several kilometres of walking trails are available on the estate for nature lovers and will lead you to breathtaking viewpoints and panoramas, as well as the ascent of Mont Prospect (900 m high). Nearby, there are also the Sentiers Frontaliers, the Fourth Connecticut Lake Trail and the Sentier de la mine d'or. Beautiful lakes are yours to discover in New Hampshire, only a few minutes from our estate. You can also rent inflatable paddleboards and fishing lines in season.
Don't forget your passport! See you soon!
Back to activities
Domaine Lauz Altitude – Chalet de l'Orignal and Chalet du Chevreuil
161, route St-Hyacinthe, Chartierville, Québec, J0B 1K0
Les Sentiers Frontaliers
171 Rte St Hyacinthe, Chartierville, QC J0B 1K0, Canada
Côte des lignes
164 Québec 257, Chartierville, QC J0B 1K0, Canada
Centre d'interprétation de la mine d'or
200, route 257, Chartierville, Québec, J0B 1K0
Montagne de Marbre
10e Rang E, Notre-Dame-des-Bois, Le Granit, QC J0B 2E0, Canada
Mont Saddle
10e Rang E, Notre-Dame-des-Bois, Le Granit, QC J0B 2E0, Canada
Centre d'interprétation de la Côte magnétique
134-138 Route 257, Chartierville, QC J0B 1K0, Canada
Les chalets de la Vallée Étoilée
128-C, route 212 est, La Patrie, Québec, J0B 1Y0
Au domaine de La Giroux-ette
141, route 212 Est, La Patrie, QC, Canada
Resto-Bar La Patrie
10 Rue Principale Nord, La Patrie, Québec J0B 1Y0, Canada
Éva-Senécal Stop – La Patrie
56 Rue Notre Dame O, La Patrie, QC J0B 1Y0, Canada
Le Chalet du Randonneur
40 Route de l'Église, Notre-Dame-des-Bois, QC, Canada
Herboristerie Apoteka
35 Rue Principale Est, Notre-Dame-des-Bois, QC, Canada
Plein La Vue stop – Notre-Dame-des-Bois
58-56 QC-212, Notre-Dame-des-Bois, QC J0B 2E0, Canada
Chalet L'Étoile de la Montagne
80 Québec 212, Notre-Dame-des-Bois, QC, Canada
Mont Victoria
189 Route du Parc, Notre-Dame-des-Bois, QC J0B 2E0, Canada
ASTROLab at Mont-Mégantic National Park
189 Route du Parc, Notre-Dame-des-Bois, QC, Canada
Giant Solar System
189 Route du Parc, Notre-Dame-des-Bois, QC, Canada
Mont-Mégantic National Park
189 Route du Parc, Notre-Dame-des-Bois, QC, Canada
Microtel Wyndham Inn & Suites Lac-Mégantic