Les Sentiers Frontaliers
171 Rte St Hyacinthe, Chartierville, QC J0B 1K0, Canada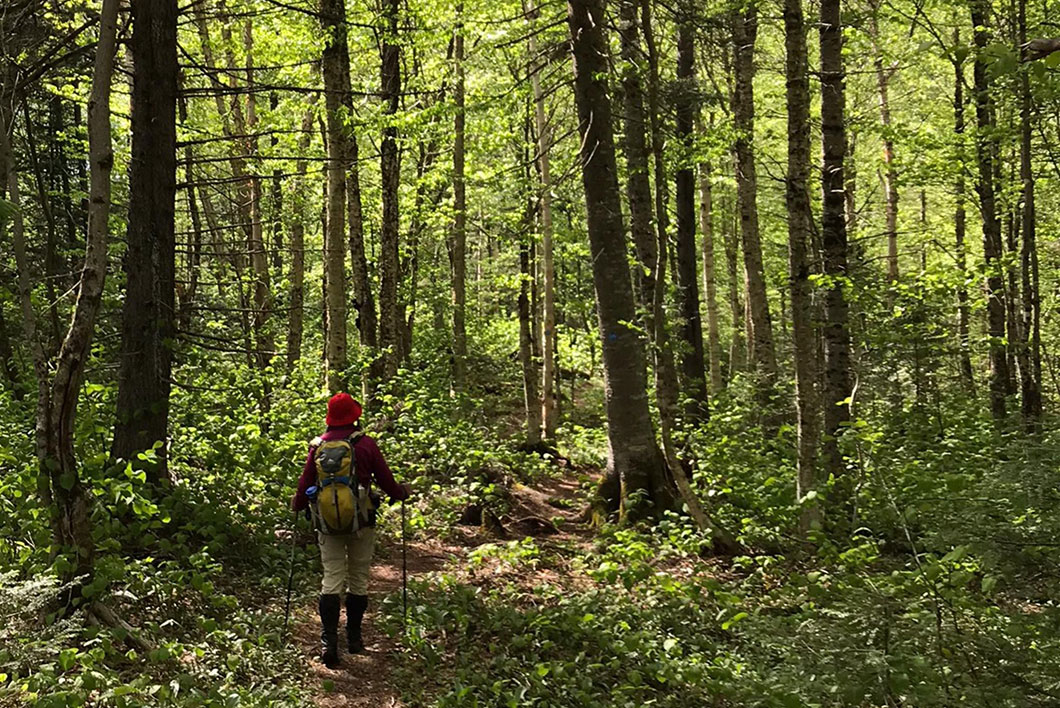 Les Sentiers Frontaliers include both a hiking club and a network of walking trails that stretch over more than 135 km along the Canada-USA border. You'll have several opportunities to actually straddle the border! The hiking club offers various group activities, along with an expedition for brave hikers that lasts several days and allows you to explore sections of the border trails. Do you prefer to keep your hikes to one day? There are various options that will satisfy you! There are several mountains over 1000 m high, including Mont Gosford (Woburn), which is the highest peak in southern Quebec at 1,193 m. Another magnificent peak to climb on the trails is the Montagne de Marbre, or Marble Mountain, which will give you a bit of a hard time on the way up, but an incredible view at its summit! If there's still some gas in your tank, here's a 2 for 1: Mont Saddle is in sight, but it can only be reached from the Montagne de Marbre trail … another great climb if you want mountains as far as the eye can see! All of this is on the border trail network.
On your marks, get set, go!
The trails are not accessible during hunting season. Find out more!
Back to activities
Domaine Lauz Altitude – Chalet de l'Orignal and Chalet du Chevreuil
161, route St-Hyacinthe, Chartierville, Québec, J0B 1K0
Les Sentiers Frontaliers
171 Rte St Hyacinthe, Chartierville, QC J0B 1K0, Canada
Côte des lignes
164 Québec 257, Chartierville, QC J0B 1K0, Canada
Centre d'interprétation de la mine d'or
200, route 257, Chartierville, Québec, J0B 1K0
Montagne de Marbre
10e Rang E, Notre-Dame-des-Bois, Le Granit, QC J0B 2E0, Canada
Mont Saddle
10e Rang E, Notre-Dame-des-Bois, Le Granit, QC J0B 2E0, Canada
Centre d'interprétation de la Côte magnétique
134-138 Route 257, Chartierville, QC J0B 1K0, Canada
Les chalets de la Vallée Étoilée
128-C, route 212 est, La Patrie, Québec, J0B 1Y0
Au domaine de La Giroux-ette
141, route 212 Est, La Patrie, QC, Canada
Resto-Bar La Patrie
10 Rue Principale Nord, La Patrie, Québec J0B 1Y0, Canada
Éva-Senécal Stop – La Patrie
56 Rue Notre Dame O, La Patrie, QC J0B 1Y0, Canada
Le Chalet du Randonneur
40 Route de l'Église, Notre-Dame-des-Bois, QC, Canada
Herboristerie Apoteka
35 Rue Principale Est, Notre-Dame-des-Bois, QC, Canada
Plein La Vue stop – Notre-Dame-des-Bois
58-56 QC-212, Notre-Dame-des-Bois, QC J0B 2E0, Canada
Chalet L'Étoile de la Montagne
80 Québec 212, Notre-Dame-des-Bois, QC, Canada
Mont Victoria
189 Route du Parc, Notre-Dame-des-Bois, QC J0B 2E0, Canada
ASTROLab at Mont-Mégantic National Park
189 Route du Parc, Notre-Dame-des-Bois, QC, Canada
Giant Solar System
189 Route du Parc, Notre-Dame-des-Bois, QC, Canada
Mont-Mégantic National Park
189 Route du Parc, Notre-Dame-des-Bois, QC, Canada
Mini Compostelle Mégantic