Côte des lignes
164 Québec 257, Chartierville, QC J0B 1K0, Canada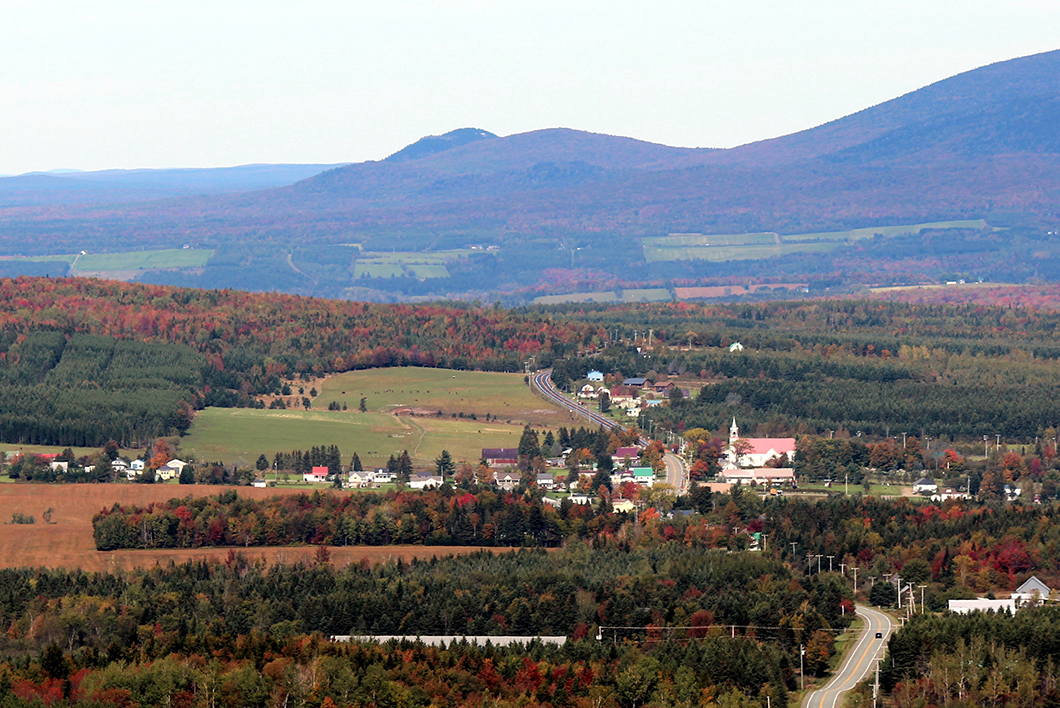 The Magnetic One
Altitude: 710 m
Drop: n/a
Length: n/a
Type: Appalachians, road access
Duration: n/a
Level: Easy
With its engaging optical illusion, Côte des Lignes can be accessed off Route 257, and from the south off US Route 3, which passes through Pittsburgh. A lookout point awaits you at the summit, just a few metres from the American border. In fact, there's a border station located on a mountain pass, at an altitude of 720 metres. Don't forget your passport!
Once you cross the border, you'll have a spectacular view. The Connecticut Lakes State Forest stretches out as far as the eye can see. For fans of long hikes, Côte des Lignes is also the starting point of the Sentiers Frontaliers (135 km of trails)It's also a dream spot for a high-up picnic or for stargazing in peace and quiet.
Since you're in the neighbourhood, head to Côte Magnétique, or Magnetic Hill. Put your car in neutral and watch as it ascends Route 257 all on its own. It's a phenomenon that's guaranteed to leave you speechless!
See the summits
Côte des lignes
164 Québec 257, Chartierville, QC J0B 1K0, Canada
Domaine Lauz Altitude – Chalet de l'Orignal and Chalet du Chevreuil
161, route St-Hyacinthe, Chartierville, Québec, J0B 1K0
Les Sentiers Frontaliers
171 Rte St Hyacinthe, Chartierville, QC J0B 1K0, Canada
Centre d'interprétation de la mine d'or
200, route 257, Chartierville, Québec, J0B 1K0
Montagne de Marbre
10e Rang E, Notre-Dame-des-Bois, Le Granit, QC J0B 2E0, Canada
Mont Saddle
10e Rang E, Notre-Dame-des-Bois, Le Granit, QC J0B 2E0, Canada
Centre d'interprétation de la Côte magnétique
134-138 Route 257, Chartierville, QC J0B 1K0, Canada
Les chalets de la Vallée Étoilée
128-C, route 212 est, La Patrie, Québec, J0B 1Y0
Au domaine de La Giroux-ette
141, route 212 Est, La Patrie, QC, Canada
Resto-Bar La Patrie
10 Rue Principale Nord, La Patrie, Québec J0B 1Y0, Canada
Éva-Senécal Stop – La Patrie
56 Rue Notre Dame O, La Patrie, QC J0B 1Y0, Canada
Le Chalet du Randonneur
40 Route de l'Église, Notre-Dame-des-Bois, QC, Canada
Herboristerie Apoteka
35 Rue Principale Est, Notre-Dame-des-Bois, QC, Canada
Plein La Vue stop – Notre-Dame-des-Bois
58-56 QC-212, Notre-Dame-des-Bois, QC J0B 2E0, Canada
Chalet L'Étoile de la Montagne
80 Québec 212, Notre-Dame-des-Bois, QC, Canada
Mont Victoria
189 Route du Parc, Notre-Dame-des-Bois, QC J0B 2E0, Canada
ASTROLab at Mont-Mégantic National Park
189 Route du Parc, Notre-Dame-des-Bois, QC, Canada
Giant Solar System
189 Route du Parc, Notre-Dame-des-Bois, QC, Canada
Mont-Mégantic National Park
189 Route du Parc, Notre-Dame-des-Bois, QC, Canada
Parc régional du Mont-Ham