Mont Saddle
10e Rang E, Notre-Dame-des-Bois, Le Granit, QC J0B 2E0, Canada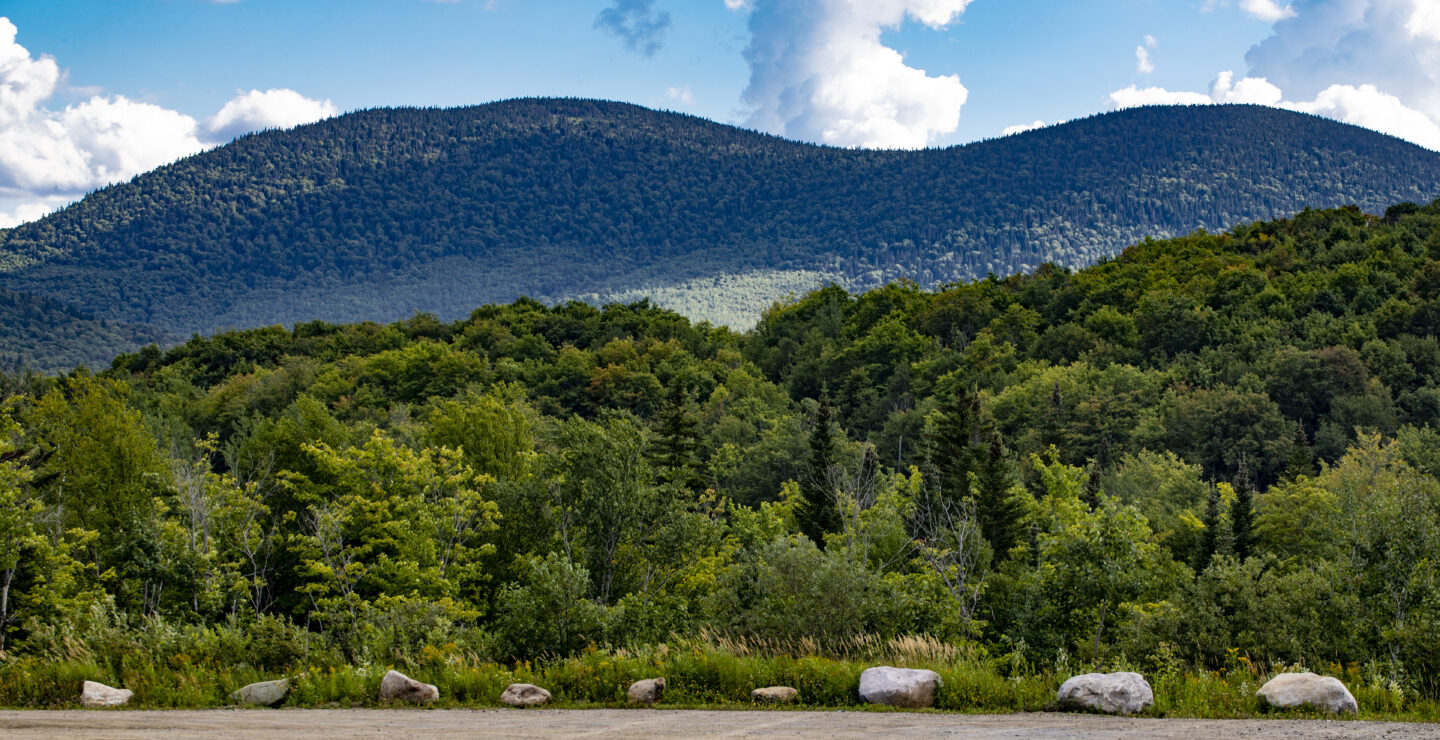 The Secret
Altitude: 972 m
Drop: 540 m
Length: 14 km
Type: Appalachians, unique trail
Duration: 6:00
Level: Advanced
A well-kept secret! Crossed by the Canadian-American border, this mountain can only be accessed from Montagne de Marbre. This hike is perfect for a full escape. Rookies, stay away! Sometimes nicknamed the "horseback" because of its shape, this mountain offers a change of scenery and is a real athletic challenge. In the summer, the trail is lined with small raspberry bushes and ferns. Careful, very ripe strawberries can stain your clothes if you touch them! To make your calves work even harder, tackle this mountain in winter. It's a great way to use up all your extra energy! Whether you choose a summer or winter hike, you'll be astounded by the beauty of the landscape all around you.
Take a photo with the Rencontre au Sommet sign … it's one of the hardest to reach and is worth its weight in gold!
*Mont Saddle is closed in the fall during hunting season.
See the summits
Mont Saddle
10e Rang E, Notre-Dame-des-Bois, Le Granit, QC J0B 2E0, Canada
Montagne de Marbre
10e Rang E, Notre-Dame-des-Bois, Le Granit, QC J0B 2E0, Canada
Chalet L'Étoile de la Montagne
80 Québec 212, Notre-Dame-des-Bois, QC, Canada
Plein La Vue stop – Notre-Dame-des-Bois
58-56 QC-212, Notre-Dame-des-Bois, QC J0B 2E0, Canada
Le Chalet du Randonneur
40 Route de l'Église, Notre-Dame-des-Bois, QC, Canada
Herboristerie Apoteka
35 Rue Principale Est, Notre-Dame-des-Bois, QC, Canada
Le Marché des Appalaches
147 Québec 212, Notre-Dame-des-Bois, QC, Canada
Au domaine de La Giroux-ette
141, route 212 Est, La Patrie, QC, Canada
Les chalets de la Vallée Étoilée
128-C, route 212 est, La Patrie, Québec, J0B 1Y0
Aux Berges de l'Aurore
139 Route du Parc, Notre-Dame-des-Bois, QC, Canada
Ferme Terre-Vent
139 Route du Parc, Notre-Dame-des-Bois, QC, Canada
Mont Victoria
189 Route du Parc, Notre-Dame-des-Bois, QC J0B 2E0, Canada
ASTROLab at Mont-Mégantic National Park
189 Route du Parc, Notre-Dame-des-Bois, QC, Canada
Giant Solar System
189 Route du Parc, Notre-Dame-des-Bois, QC, Canada
Mont-Mégantic National Park
189 Route du Parc, Notre-Dame-des-Bois, QC, Canada
Centre d'interprétation de la mine d'or
200, route 257, Chartierville, Québec, J0B 1K0
Louise-Gosford ZEC (Gosford Area)
901 Rang Tout-de-Joie, Woburn, QC, Canada
Mont Gosford
Mont Gosford, Saint-Augustin-de-Woburn, QC G0Y 1R0, Canada
Domaine Sous un Ciel Étoilé
3290 Québec 212, Woburn, QC, Canada
Camping et Chalet dans les Arbres Mont-Mégantic
4149 Chemin de la Montagne, Val-Racine, QC, Canada
Zenderfull: excursions under the stars
4410 Chemin de la Montagne, Val-Racine, QC, Canada
Côte des lignes
164 Québec 257, Chartierville, QC J0B 1K0, Canada
Domaine Lauz Altitude – Chalet de l'Orignal and Chalet du Chevreuil
161, route St-Hyacinthe, Chartierville, Québec, J0B 1K0
Les Sentiers Frontaliers
171 Rte St Hyacinthe, Chartierville, QC J0B 1K0, Canada
Centre d'interprétation de la Côte magnétique
134-138 Route 257, Chartierville, QC J0B 1K0, Canada
Mont Saint-Joseph
189 Route du Parc, Notre-Dame-des-Bois, QC J0B 2E0, Canada
Domaine des Montagnais
203 Chemin de la Fôret Enchantée, Val-Racine, QC, Canada
Mont Mégantic
Chemin de l'Observatoire, La Patrie, QC J0B 1Y0, Canada
Resto-Bar La Patrie
10 Rue Principale Nord, La Patrie, Québec J0B 1Y0, Canada
Éva-Senécal Stop – La Patrie
56 Rue Notre Dame O, La Patrie, QC J0B 1Y0, Canada
Mini Compostelle Mégantic
2991 Chemin Saint Léon, Val-Racine, QC, Canada
Village stop – Val Racine
2991 Chemin St Léon, Val-Racine, QC, Canada
Joseph-Alfred Fontaine stop – Woburn
Chemin de la Rivière-Bergeron & Québec 161, Saint-Augustin-de-Woburn, QC, Canada
Scotch Cap
784 Chemin de la Rivière-Bergeron, Piopolis, QC G0Y 1H0, Canada
Montagne de Franceville
520 Chemin de Franceville, Scotstown, QC J0B 3B0, Canada